Bed Stuy Volunteer Ambulance Corp fights DOH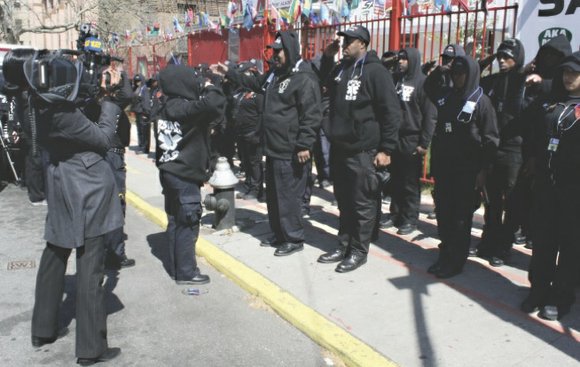 News that the EMS program of the popular Bed Stuy Volunteer Ambulance Corp was under assault by the New York State Department of Health's Bureau of EMS created an underground rumble that surely could be heard from Brooklyn to Albany.
"Why do they want to disenfranchise the best volunteer corps in the nation, bar none? Is it because we are multicultural?" asked BSVAC leader Commander James "Rocky" Robinson. "It is arbitrary and capricious. It is racist. There was no hearing or ruling. No report. There was just a couple of white guys in an office, making a random decision."
"We fight all day and we keep fighting. We do all our training with the Bed Stuy Volunteer Ambulance Corp. They are a very important part of our community," said Jelani Mashiriki, member of the Black Vets for Social Justice.
"Let us keep them from closing down the only academy in our community that has helped the less fortunate worldwide, not just in Bed-Stuy. Just as we had the back of President Obama, let's back our commander and chief, James 'Rocky' Robinson," said EMT Captain Chenelle McQueen. "If you were to consider the closing of the Bed-Stuy EMT academy as a direct attack on people of color, don't think of yourself as a conspiracy theorist, I would think you are spot on.
"We need to rally around our commander, our father, our leader and our guidance counselor. He has helped the old and disenfranchised. He has given a home to the homeless."
"We have graduated 200 EMTs since October last year," said Robinson. "Right off of this little corner of Marcus Garvey and Greene Avenue, we turned out more people than the whole of EMS and they have billions of dollars."
Robinson told the AmNews, "Matter of fact, Councilman Al Vann and the Black Caucus in the City Council wants us to do the disaster preparedness for Brooklyn, so they see our value. The lives we have saved, but I guess we were graduating too many people of color--often without money--and that is why they went ahead and did an audit. We got lawyers for some of these kids to straighten things out if they needed it. We got them to pull up their pants and straighten their hats.
"If you want to find a reason, you can. They suspended our sponsorship to have these kids trained up as health care providers and first responders, to get them jobs. These other schools are happy because now they get this for $1,000 per course."
Urging the community to send appeal letters asking the DOH to "reinstate our EMT Training program," Chief Geralde Hyppolite declared, "Folks, let's keep in mind that the DOH is not proposing to close down BSVAC's ambulance service. BSVAC's sponsorship for EMT training programs is currently suspended, and we can't at this time start new EMT courses. It's not clear when or if we will be permitted to start new EMT courses again, but let's be clear about the ambulance service--that is not in danger."