Let them entertain!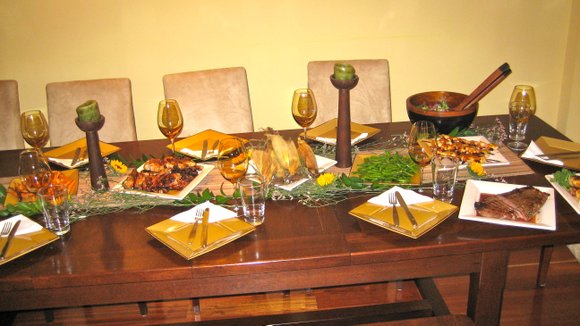 As the host, aside from dressing the table and making everyone comfortable, you will be responsible for the main protein dish--the star of the meal. It is like the turkey during Thanksgiving. It sets the tone for everything else that accompanies it.
You will notify your confirmed guests of your main course, then assign the other seven components based on your guests' strengths or let them duke it out on a first-come, first-served basis.
The single guy who doesn't cook but can eat and pick a great cheese knows his role; the wine lover and burgeoning pastry chef couple will bring their talents to the table; and the vegetarian turns everyone out with her meatless first course. If you are having more than eight guests, ask them to share the responsibilities. The components are not equitable, but y'all are grown. You will figure it out.
And when the plan comes together, Tiny Tim couldn't predict a more joyous time. You will see how one dish can set the tone and be translated into all of the other elements of what I guarantee will be a unique holiday dinner party.
I am preparing for an end of year wrap-up and desperate for your Harlem culinary winners of the year. It can be a food, a dish, a restaurant or eatery or person. Please email, Facebook or tweet me with your nominations. Use #BestofHarlem2012.
Happy Holidays! Enjoy, get eating and thanks for reading!
Kysha Harris is a food writer, culinary producer, consultant and owner of SCHOP!, a personalized food service offering weekly and in home entertaining packages. Questions? Comments? Requests? Feedback? Invitations! Email her at kysha@iSCHOP.com, follow her on Twitter @SCHOPgirl or Facebook www.facebook.com/SCHOPnyc or chat with her on Instant Messenger at AskSCHOP, Monday-Friday, 6-8 p.m. For even more recipes, tips and food musings, subscribe to her blog at www.talkingSCHOP.wordpress.com.