'Guardians' rises to the occasion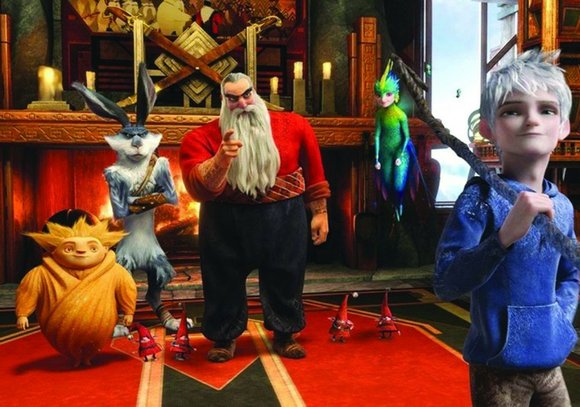 Here, the skill of the screenwriter is evident. Part of Pitch's plan to defeat all of the Guardians is fiendishly simple: Stop hope. Stop faith. Stop the children from believing in all of them, just like they do with Jack Frost.
This film has a lush villain; it's one of the best things about the flick. He is scary in both intent and his look. Visually, Pitch is always shrouded in darkness and followed around by black clouds that suck the life force out of whatever they touch. The design team knows how to make raw fear artistic and interesting. It works.
A solid story in place, the dazzling 3-D eye candy arrives in full DreamWorks Animation force. Under Ramsey's direction, there are great performances. Santa Claus (voiced by Alec Baldwin with a Russian accent) has a sled that travels at warp speed. He also has funny, hard-working elves and Yeti honor guards. (Yes, that's another name for Big Foot.)
The Sandman has skills and is not afraid of the big, bad bogeyman. Nice touch for such a small figure who never utters a single word.
This is a good-looking film. Under the visual guidance of Roger Deakins and Guillermo del Toro, who served as technical guides, you expect nothing less than stunning, and it delivers!
There is no disappointment in "Rise of the Guardians," except maybe having to wait for the sequel and the reveal of the identity of "the man on the moon." This is a hip take on a classic, and I'm casting my vote that in installment No. 2, we'll discover the man in the moon is actually a shape-shifting woman.
You can bet there will be a sequel--just ask the man in the moon!