Holiday musical will warm your heart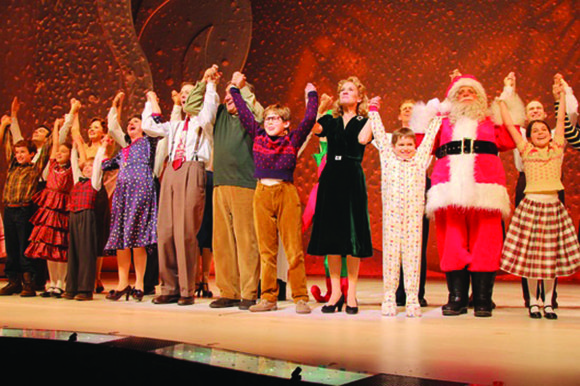 Heart-warming, a touching innocence, a reminder of simpler times, hilarious--those are the first thoughts that come to mind when I think of the new Broadway show "A Christmas Story: The Musical," playing at the Lunt-Fontanne Theatre on West 46th Street.
This is one of the most marvelous musicals I've seen in a long time, and it is something that is wonderful for the entire family to experience. If the name "A Christmas Story" sounds familiar, it's because it is based on the 1983 Warner Bros. picture of the same name. The movie, written by Jean Shepperd, Leigh Brown and Bob Clark, was funny; however, nothing less than pure brilliance and an abundance of creativity could have inspired converting this movie into a musical and mounting it on the Broadway stage. "A Christmas Story: The Musical" has a delightful book by Joseph Robinette and vivid and funny music and lyrics by Benj Pasek and Justin Paul.
The musical introduces the audience to Shepperd, a real-life radio program host who shared stories of his life with his listeners. In the musical, he is telling the story of the best Christmas he remembers--one he experienced in the 1940s, growing up in Indiana. The audience gets to meet a young Jean, who is called "Ralphy" by his family. We also get to meet his little brother Randy, who doesn't like to eat; his mother, a loving, caring housewife and parent; and his father, referred to as "The Old Man," who curses a lot and loves to enter crossword puzzle contests. We immediately find out that this was Ralphy's best Christmas because he had his heart set on a particular gift.
I truly hope you will take your family and go and see the show, so I'm not going to tell you more about the storyline. Let me just say that the songs are very revealing plot-wise and extremely funny, and the singing is phenomenal. And the dancing is in a class by itself. This musical has some incredible tap dancing, and believe it or not, a lot of the amazing performances come from the children in the cast.
"A Christmas Story: The Musical" will have you feeling happy, relaxed and inspired. It has incredible choreography by Warren Carlyle and phenomenal direction by John Rando. The cast gives tremendous performances and includes Dan Lauria as Shepperd, Johnny Rabe as young Ralphy, John Bolton as the Old Man, Erin Dilly as Mother and Zac Ballard as Randy. They are joined on stage by many amazing performers, which again include a perfect mix of adults and children.
This musical works on every level--it is hilarious, fun, innocent, delightful and makes you feel inspired. The performances, sets, costumes, songs--everything just flows beautifully! For tickets, call 877-250-2929 or visit www.achristmasstorythemusical.com.