Mariette Monpierre's 'Elza' tackles Caribbean family issues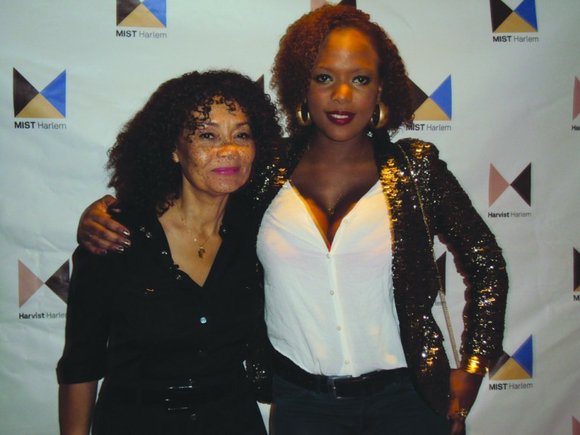 "Elza" (2011, France, Guadeloupe, 80 min.), directed by Mariette Monpierre, premiered Thursday, Nov. 29, for a two-week run at the newly constructed MIST Harlem Entertainment Center, 46 W. 116th St.
Cinematically stunning, "Elza" is an endearing, timely and important feature film about the changing Caribbean family. Produced by Monpierre along with Gerard Lacroix, Eric Basset and Edgard Tenembaum, this uniquely conceptualized work, based on the filmmaker's real life story, is brilliantly co-written by Monpierre and filmmaker Mama Keita, who is also the film's line producer.
The film opens in Paris and shifts to Guadeloupe, a region of France, after the lead character, Elza (Stana Roumillac), takes the monetary gift received from her single mother, Bernadette (Mariette Monpierre), for graduating from college and travels to their native homeland. Her goal is to find her father, Mr. Desire (Vincent Byrd Le Sage), who abandoned the family in her childhood. Although he is a man Elza hardly recalls, she has daydreamed about him as far back as she can remember.
What Elza does have committed to memory is "Karukera" (island of beautiful waters"), the name coined by the island's indigenous Carib Indians. The first thing Monpierre's character does upon arrival to the scenically voluptuous island of Guadeloupe is stop her cab and plunge into the tranquil blue water. This ritual is the symbolic baptism Monpierre uses to show that Elza has returned home to her roots. Even her hair, which had just been styled in Paris before her departure, has returned to its natural, curly state, which her bourgeoisie father would later denounce, stating that no child of his could have hair of that quality.
"Elza" takes us on an insightful trip. And what a journey. As we get caught up in the cat-and-mouse story of a daughter trying to discern who the man that fathered her really is, and what he is all about, we simultaneously find out about Elza's birthplace. And it is breathtaking! In fact, Monpierre presents a spectacular, postcard-pretty view of Guadeloupe with inviting beaches, verdant foliage, mountains, gorgeous people and exotic African, Caribbean and French Creole culture.
In addition to the visuals, "Elza" provides a tantalizing sampling of the island's rich culture with an original 14-song soundtrack by some of Guadeloupe's most talented artists, among them David Fackeure, Stevy Mahy and Victor O, Dede Saint Prix, Soft, Krys, Edith Lefel, Rodrigue Marcel, K'Koustik, Jenny Alfa, Malavoi, Neg'Marrons & Lynnsha, and Rony Theophile.
Nonetheless, while reveling in the island's scenery and music, Monpierre also openly conveys the harshness of a class system based on color. In one instance, the darker-skinned men who work for Elza's father have to fight for their wages. Another example is Mr. Desire's discrimination against his daughter's boyfriend, with whom she has a child. He is ostracized to the point of not being allowed to see his child, even on her birthday, because of his social status and because he is of a darker hue. Yet, at the same time, the father's mistress is a dark-skinned woman, married to one of the wealthiest white Frenchmen on the island.