Reports downplay serious state of Mandela's health
12/12/2012, 11:08 a.m.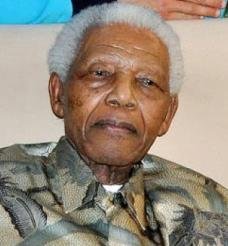 Dec. 11 (GIN) - Government officials are sending upbeat reports on former President Nelson Mandela despite the leader's extended hospitalization and treatment for a recurrent lung infection, linked to age and his former prison stay.
"Tests have revealed a recurrence of a previous infection, for which Madiba is receiving appropriate treatment and he is responding to the treatment," the presidency said on Tuesday.
Mandela is "doing very, very well," said Defense Minister Nosiviwe Mapisa-Nqakula. "He had a good night's rest," presidential spokesman Mac Maharaj said.
The 94 year old ANC leader spent 27 years in prison for fighting racist white rule after which he was elected president in 1994 and served one term. Doctors say he contracted tuberculosis from his damp prison cell. A bacterial infection, TB can stay dormant for year and can return to trouble those previously infected.
Graca Machel, Mandela's wife, confessed she saw his spirit and sparkle "somehow fading."
His granddaughter, Ndileka Mandela added: "I think he has come to accept that it's part of growing old, and it's part of humanity as such... At some point you will depend on someone else, he has come to embrace it."