Hillary Rodham Clinton setting style trends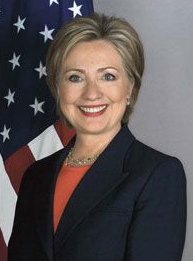 While reading, reading, reading through endless dot-com sites, I finally came across something that struck me (I always pay attention to something that immediately "strikes" me, as in makes me tingle). It was a site promoting this fascinating line of skin/hair care products (always sounds good to me): Rodin Skincare, created by 64-year-old Linda Rodin. Made from exotic essential oils like jasmine, jojoba and neroli, the products are referred to as "real elixirs for the skin." Found at www.oliolusso.com (Italian for luxury oil), products range in price but all are very tempting.
The line's mission statement reads, "The key components in each product are essential oils, derived from flowers and botanicals that are legendary for their soothing, softening and protective properties." Now couldn't we all use a little bit of this right about now? In other words, treat yourself to something nice.
The Children's Cancer & Blood Foundation hosted its annual Breakthrough Ball and raised a whopping $1.2 million to treat the thousands of children suffering from cancer and blood disorders at the Division of Pediatric Hematology and Oncology of New York Presbyterian Hospital/Weill Cornell Medical Center. Among those in attendance were Lauren Williams, looking elegant with her hair swept back, and basketball legends John Starks and Larry Johnson, both looking so handsome. Now that too should lift your spirits.
All fur coat lovers will be happy to know that fur coats are back in. Did they ever go out? As the chilly days are upon us, don't be afraid to pull yours out and wear it, honey. In these days of a tight economy, I have recently found myself visiting the various thrift stores and finding some real bargains. From a mohair coat to a mink and even a shearling for my daughter, we're talking high-end merchandise at low-end prices. One of my favorite haunts has become Housing Works on 74th Street, Columbus Avenue. Every time I go in that store, I come out with something. I don't know if that's a good thing or bad, but yeah, it's that good.
Rumor has it Lenox Lounge has been sold, and so it goes, another one bites the dust. Rumors hope that the new owner will turn the famous watering hole into a supper club; something chic and entertaining while maintaining the original warmth and charm. Chic, entertaining, original warmth and charming--sounds like qualities to live by.
Until next week ... kisses