On a Holland America cruise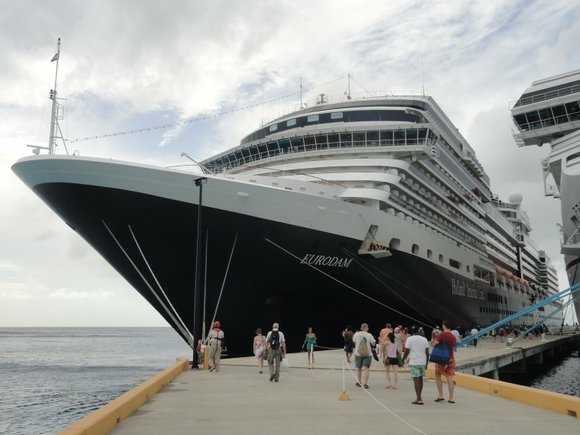 In addition to the pool and Jacuzzis located on each end of the Lido Deck (Deck 9), forward completely al fresco and aft (the rear of the ship) under a retractable roof, are surrounded by the usual comfortable lounge chairs and amenities. But you can take it up a notch by reserving a private cabana, a romantic oasis with a circular, fabric-covered lounge bed tastefully decorated with colorful pillows, towels and an intimate table for two for lunch and/or cocktails.
The Fitness Center, also on the Lido Deck, has just about every piece of cardio, free weight, mat and ball equipment you could want, plus classes from stretching to yoga, spinning, tai chi and a variety of health-oriented seminars. Next door, the heavenly scent of aromatic lotions, rubs, scrubs and other essentials is the first thing that gently greets you upon entering the award-winning Greenhouse Spa & Salon. An extensive array of spa and salon services, a hydro pool, and the sauna, steam and relaxation rooms (the latter overlooks the ocean) featured here are specifically designed to relax and rejuvenate you--mind, body and spirit.
You are what you eat
If that's true, then I am fresh, scrumptious, amazing, spectacular, healthy, audacious, bold and just downright tasty!
That being said, for me to just say that the ship offers something to eat 24/7 is like stating that Italy makes good wine! The food here is, well ... see above!
The Lido Restaurant (on the Lido Deck, of course!) serves fresh, cooked-to-order specialties served buffet style in a very relaxed ambiance breakfast, lunch and dinner. From Mediterranean to Spanish, Italian, French, American, deli, Greek, full breakfast and continental fare and more, you will find it here throughout your journey.
Outstanding upscale cuisine is the focus in the magnificent Rembrandt Dining Room, offering two dinner seatings for your dining preference (breakfast and lunch are also served here on certain days). Here, guests enjoy exquisite, five-course international menus, fine wines and cocktails and the utmost in food preparation and service while seated in a dazzling upper and lower dining room design linked by an elegant spiral staircase.
Not included in your all-inclusive cruise package, but well worth the money, is a culinary adventure at two of the ship's signature dining rooms: the Pinnacle Grill and the Tamarind Restaurant and Silk Den Lounge.
The Pinnacle Grill features entrees highlighted by sterling silver beef and the utmost fresh fish and seafood dishes, served on distinctive Bvlgari China, Riedel stemware and Frette linens and accompanied by, if you desire, select Wine Spectator-rated wines.
The Tamarind Restaurant and Silk Den Lounge is infused with authentic Pan-Asian flavor and flair at every turn, from the decor to the gastronomy, together creating an ambiance emulating one you'd find in the finest restaurants or lounges in Asia.
Those desiring more of an educational and/or hands-on experience will love the Culinary Arts Center presented by Food & Wine magazine, with its state-of-the-art demonstration kitchen, intimate cooking classes and special tasting events.
Can't quite leave the technology at home? Try the Explorations Cafe, powered by the New York Times or the Digital Workshop, powered by Windows. And although Holland America cruises tend to draw a sophisticated adult crowd, kids are always welcome and have age-appropriate options at the Loft for teens and Club HAL for kids ages 3 to 12.
Ship-wide, Holland America offers a little and lot of everything for everybody.
Up next, our first port of call, Grand Turk in Turks and Caicos!
Lysa Allman-Baldwin writes for numerous online and print publications, including as the cultural travel writer for www.Examiner.com and as a senior travel writer for SoulOfAmerica.com, an Afrocentric travel website. Lysa can be reached at lallmanbaldwin@kc.rr.com.
Resource list:
Holland America Line 877-932-4259, www.hollandamerica.com