Once a Panther, always a Panther: Brother Shep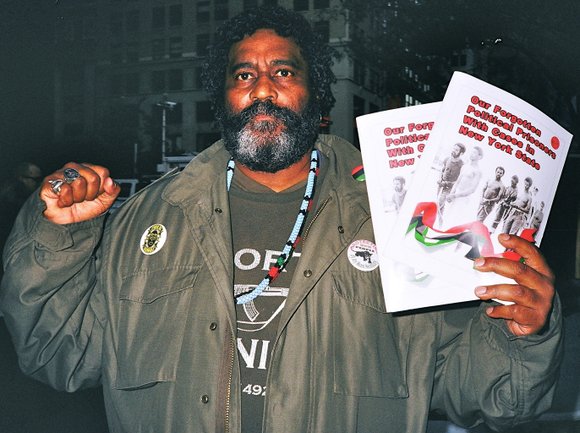 "It's a Panther saying that we keep a red book in our back pocket and Malcolm in our heart," Black Panther Brother Shep shared with the AmNews as he stood on Lexington Avenue and 125th Street on Friday, Dec. 9 to assist with "Serve the People Day," sharing free food and clothing with the public.
Brother Shep, a Bronx native, became a member of the New York chapter of the Black Panther Party in 1973 at the age of 19. As he stood outside on a chilly December afternoon wearing a shirt that displays Panther pride and a necklace with a Black fist pumped, Brother Shep kept an eye on the peaceful crowd that lined up to receive warm food on plastic plates and bottled spring water. There was no NYPD presence, but members of the Young Lords and Zulu Nation volunteered.
He noted, "I grew up amongst the Panthers. A lot of us who were young were protesting the Vietnam War and what was going on in South Africa with apartheid. Even the music back then was all about the Black culture fighting the struggles."
Brother Shep became a Black Panther Party member when the revolutionary organization was going through a division over which philosophy suited the party more effectively. "It was an ideology split," he said, "one side wanted to stay with the survival part and the other wanted to stay with the military side.
"What a lot of people fail to realize is that the Panthers were three-quarters women, and when that split came, we lost a lot of our members, because the women were not agreeing with the split nor did they want to get caught up in either side. Plus, you had the Panther 21, which really hit us hard."
As the Panthers went through their tribulations with the government as well as infrastructural issues throughout the '70s, some went to college. Brother Shep was one who did just that. Starting his college studies at Hunter College in 1974, he and the Panthers were a key element in the formation of the Black Student Union there, which gave Black students a platform to not only expand their intellectuality but the chance to participate as a collective. He was also the East Coast distribution manager for the Black Panther News Service while attending Hunter.
"Dr. Ben and Dr. Clark, I always say that I had the best. Back then, it was free tuition and open admission," he said. "We also had the professors go to the prisons and help teach the inmates as well. It was the inmates in prison who told the professors about Hale House, which at the time was not getting any funding-we set up a work-study and I started working with the kids there. Actually, that is how I got my start in child care," he recollected.
Brother Shep completed his studies at Hunter in 1980, where he double majored in political studies and Africana-Black studies. His efforts as a volunteer have spanned numerous organizations, from helping Harlem's Hale House for Children to the Children's Village and St. Mark's Youth Emergency Shelter in the past to currently donating his time and guidance to the City College of New York's Morales-Shakur Community and Student Center.