Once a Panther, always a Panther: Brother Shep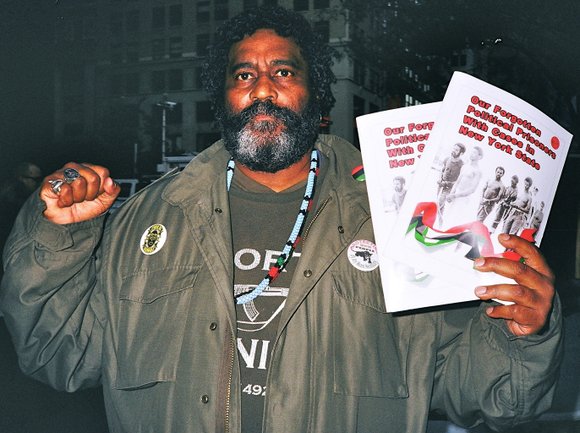 He has become a credible and respectable child care worker who has been a group home supervisor at the Mission of the Immaculate Virgin, senior house parent at the New York Human Resources Administration, chief deputy program master at Vision Quest and executive director for the Knox-Gates Neighborhood Association. He is currently the outreach/youth program director for the Safiya Bukhari-Albert Nuh Washington Foundation and program site director for the Unity Neighborhood Center, which is based in the Bronx.
Throughout the years, Brother Shep has seen his battles. He smiled as he remembered how they fought for the building that holds the Schomburg Center. "They were going to sell it to West Germany; we stopped that. We did a jazz concert, Gil Noble performed at the concert, plus he did a piece on his show, 'Like It Is,' and we had a full spread in the Amsterdam News. We stopped that sale."
He added that the lessons and knowledge he has learned from the Black Panther Party are a key reason he continues to give back to the communities of New York City.
Another cause Brother Shep holds close is that of the political prisoners. In a serious tone, he stated, "There are over 60 former Black Panthers who are in prison now, and they are forgotten about." He elaborated, "My primary thing is working with political prisoners-what we do is bring material and legal support to them."
Brother Shep helped organize a Political Prisoner Update/Letter Writing Dinner earlier this month in Harlem at the Morales-Shakur Center, which wrote letters for freedom fighter Sundiata Acoli as well as Black Panther Zolo Azania.
When the topic of Mumia Abu-Jamal (Brother Shep was co-founder of the Free Mumia Coalition in the 1990s) and the removal of the death penalty from his prison sentence arose, Brother Shep shared these words in a calm manner: "He is a comrade and we are the same age. It is a step." He showed his faith in fighting for the innocence of political prisoners such as Abu-Jamal, who put their lives on the line seeking freedom against the Black struggle and oppression.
As the topic went from Abu-Jamal to Mutulu Shakur, Brother Shep said he is far from forgotten and that plans to keep his fight going are prevalent. "We are working on a two-day benefit that will be for Mutulu," he said.
Even though he laments that the original Black Panther Party has not been as active since 1980 (the New Black Panther Party gained momentum over a decade later), he noted, "Once a Panther, always a Panther; we have no ex-Black Panthers."
This awareness is part of the reason Brother Shep is part of the Anti-Police Terror and Community Control of the Police Facilitator-Certification Workshop starting Jan. 24, 2012, at the Morales-Shakur Center. "You have to know your rights, and this program organizes you to know what to do if there is a murder or brutality in your neighborhood." He described the importance of this eight-week program, which will take place every Wednesday: "We teach you how to have your retainer for your lawyer, how to have a private investigator and how to maintain a connection with journalists."