'Not About Eve' a phenomenal theatrical experience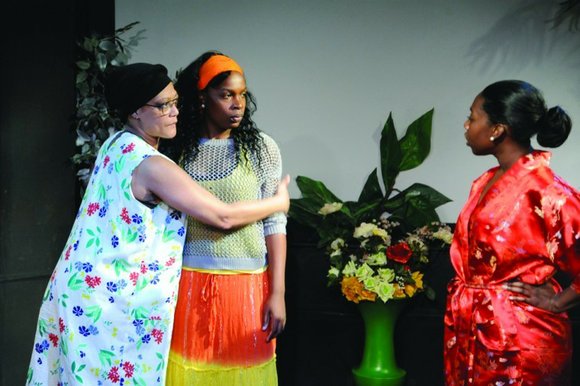 "Not About Eve" is about more than just three Jamaican women from three generations of one family. This touching production is about the female dynamic and the deep-seated issues that can exist in a family among its women. The audience is introduced to three characters: Katherine; her mother, Agatha; and Katherine's daughter Kimberley. These are three adult women with very distinct personalities and very distinct personal pains. At first it appears that Katherine and Agatha just do not get along; they simply can't see eye to eye. It then seems Katherine also has issues with Kimberley. However, there is a strong bond between Kimberley and Agatha, though their bond is not strong enough for Kimberley to reveal a very personal secret to her grandmother.
Watching their stories unfold is truly revealing, and their stories are without a doubt ones that many families share, whether you are of Jamaican descent or from the United States. The grandmother is an older God-fearing woman, who holds certain values and believes in her Bible. Katherine comes off as a self-centered woman, who runs two businesses and is quick to remind everyone that she pays for everything for the family. Kimberley has her own creative gifts and needs to be believed in, but is instead forced to take jobs that her mother sets up for her--jobs that she quits every time.
While these ladies' stories may seem simple on the outside, on the inside they are very complex and have more layers than one would expect. Each of these ladies harbors a lot of anger; both Katherine and Kimberley know well the feeling of not pleasing your mother and not experiencing her love. When a woman grows up and does not feel love, she, of course, doesn't know how to give love to others. Watching this production made me realize that sometimes when a woman seems to be insensitive and brutally blunt when it comes to dealing with the feelings of others, it could be that she is like this, because no one ever showed her kindness, so it's almost a defense mechanism.
There are multiple emotional twists and turns that Jamaican playwright Karl O'Brian Williams puts the audience through, but it's obvious that he is very observant of the female dynamic in Jamaica and precisely wrote a script that brings it to life for an audience that can see their own families in it and get a vivid understanding of the female dynamic.
This script is nothing less than brilliant and is extremely moving. The direction by Daphnie Sicre is brilliant, and all three actresses in the production nailed their roles. Sharon Tsahai King was fantastic as Agatha--she was a focused, set-in-her-ways, Bible-toting Jamaican grandmother. Her performance was amazing to experience. Stacy-Ann Brisset was stirring as Kimberley. Her focus and passion in her delivery of the role touched one immediately and sustained one's attention and sympathy throughout the production. Ilana Warner proved to be a formidable actress as Katharine, coming across with a cold toughness--a toughness she maintained no matter how emotionally powerful the moment. That's why what happens at the end is such a tearjerker.
Also a tearjerker is the fact that this Sunday was the final performance of the show, which played at Roy Arias Stage II on West 43rd Street. If you ever hear that Braata Theatre Workshop, which presented this work, is doing the show again, make plans to see it. The issues in this play are so relevant to life today, and you'll know them when you see them. I hope they look to mount it in the future and that these actresses are available to reprise their roles.