Beta Zeta Foundation 2012 Food Pantry Awards
12/20/2012, 3:06 p.m.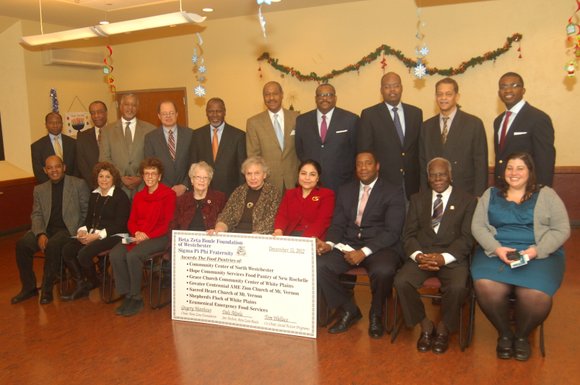 Beta Zeta Foundation of Beta Zeta Boule of Sigma Pi Phi Fraternity Inc. held its second pantry awards ceremony on Saturday, Dec. 15, during which it granted seven $1,000 checks to food pantries in Westchester County. The goal this year was to make sure that families and people who need food get what they need. The awards ceremony was held in the Library Room of the Grace Church Community Center in White Plains, N.Y. This year's awards ceremony was especially important because of Hurricane Sandy, which ravaged many communities in Greater New York.
Many people need help nowadays, and the Beta Zeta Foundation of the Sigma Pi Phi Fraternity stands ready to help--not only with comfort and concern, but, most importantly, with food. The fraternity has a long tradition of community service and food distribution. It also works with other community-minded organizations in the 2012 Food Pantry Drive to make sure that people get the food they need.
The need for helping people get more food is clear. There are many thousands of children and families living in shelters and hundreds of homeless veterans living on the streets. Seniors and fixed-income citizens are more and more pressed by bad economic circumstances. Furthermore, many families are afflicted by unemployment or underemployment. Food assistance makes all the difference in the world for these people's survival and ability to exist in tough economic times.