Birthday salute to Dr. King at National Action Network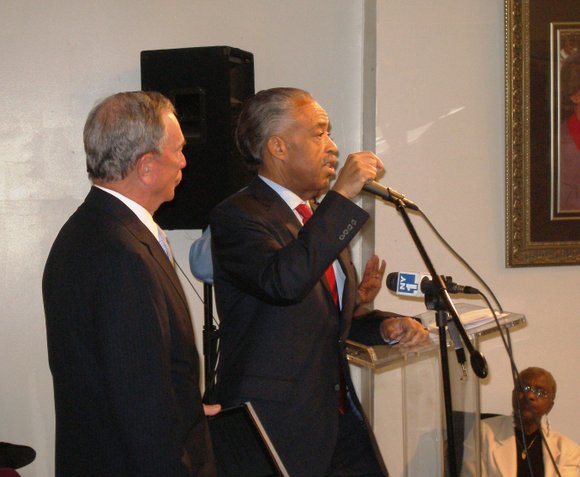 A similar serious admonition was at the core of Mallory's address, in which she pulled no punches. "If the shootings were going on below 50th Street, a lot more would be done," she stressed. She also chided community residents who are "ready to show up when a cop shoots one of us but do nothing when one of our own is killed" by another Black or Latino youth.
There were also perfunctory remarks from several notables, including Rep. Charles Rangel, who graciously acknowledged many of those working behind the scenes who never get a chance to express themselves at an occasion such as this.
Former Mayor David Dinkins, like Rangel, arrived at NAN from an earlier speaking engagement and noted that if King were still alive, "he would still be younger than I am." Dinkins said if there was one thing to remember about this day and King, it is "that his dream has still not been realized."
Stop and frisk was another topic of grave concern for several speakers and certain members of the audience; Scott Stringer, borough president of Manhattan, provided the opening salvo. More than 700,000 people, most of them young Black or Latino males, were stopped, questioned and frisked last year, Stringer observed. Arrests amounted to 5 percent of those stopped. "We have young people who are losing faith in our system," he charged.
It was the best of our cultural and political systems that attracted many immigrants to America, particularly after World War II, including Community Board No. 1 chairperson Julie Menin's mother, who arrived in the United States at 13 from Hungary, narrowly escaping the Nazis' atrocities thanks to Menin's grandmother. "She read King for inspiration," Menin recalled, "and now each year on his birthday, we sit with my three boys and we talk about Dr. King."
If Menin left the crowd in a calmed mood, Mayor Michael Bloomberg incited them even before he said a word. When he repeatedly said that "crime had gone down," there were a few hoots from the audience. The outburst was even more vociferous when he mentioned stop and frisk, but he was unruffled and stated gun control and improving education would be his top priorities.
There's not enough room here to recount all the speeches and comments, and there were some precious ones from Erica Ford on stopping the violence; from Dr. Lenora Fulani, who reminded listeners that "poverty is also violence"; and from City Comptroller John Liu, who announced that without King, "I wouldn't be standing here today," he said.
And nor would many of the others, including William Thompson, who declared a mayoral victory in 2014; Hazel Dukes; Keith Wright; Robert Jackson; Kirsten Foy; Jumaane Williams; Letitia James; Adriano Espaillat; Eric Schneiderman, Cyrus Vance; Thomas DiNapoli; and everybody else, except Gov. Andrew Cuomo, who was at similar event in Albany.
It was also wonderful to see the contingent of union members, especially those from CWA, who are fighting gallantly to get union representation at Cablevision, as it was on behalf of sanitation workers in Memphis that King gave his last ounce of devotion to struggle for justice and equality.