Documentary cinema and educational programs at Maysles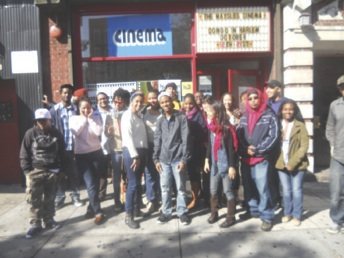 In this fast-paced information age, acquiring the knowledge to operate digital video equipment is a valuable asset in order to effectively chronicle an informative story properly. For the past five-plus years, Harlem's Maysles Institute (343 Malcolm X Blvd.) has been instrumental in educating aspiring artists about various aspects of creating documentary movies.
"There's something very special about a documentary. It puts you in touch with the real world," observes founder Albert Maysles.
Since opening its doors in 2007, the Maysles Institute has conducted courses that help educate individuals about obtaining funding, directing, producing, editing and distributing their own documentaries. Its theater showcases many independent releases that rarely, if ever, get any exposure at major movie houses or on mainstream TV. Plus, the directors use it as a platform to elaborate further on their flicks after screenings.
"The initial idea was to program really good documentaries you couldn't find elsewhere and to involve the community to determine what was on the screen," explains Albert's son, Philip Maysles.
One of the renowned documentarian's specific intentions for creating the nonfiction films was to "encourage the programming participation of local social and cultural organizations and citizen-activists to deepen community involvement and provide exposure for under-represented social issues and overlooked artists and their work."
In the early 1960s, Albert and his younger brother, David (who died in 1987), were part of the "direct cinema" movement, joining other pioneers who helped revolutionize documentary filmmaking. By deviating from the traditional manner of telling news stories with a reporter narrating the events, they instead utilized the cinema verite [observational cinema] format, which allows the actual video footage to paint the picture.
The brothers went on to make over 40 documentaries during the course of the next five decades, some of the more popular titles being "What's happening! The Beatles in the U.S.A." (1964), "Salesman" (1969), "Gimme Shelter" (1970), "Grey Gardens" (1975) and the Oscar-nominated "Lalee's Kin: The Legacy of Cotton" (2001).
"Our goal is to enhance community storytelling and civic engagement by providing residents with specialized knowledge in documentary filmmaking and the technical tools they need to succeed," reads their mission statement.
Philip commented, "Our first commitment is to serve the Harlem community in which we work. We also partner with various cultural and geographic communities in the New York City area."
Film professionals at the nonprofit organization nurture eager individuals through apprenticeships and training programs as they hone their creative self-expressions into an informative work of art.
"We really support emerging filmmakers from our communities, of all ages. We have a long, long vision for this--seeing that our communities' voices are being heard. We're a venue for dialoging, as well as producing our own stories for our communities," instructor Christine Peng says.
The Maysles Institute has five different programs available for future filmmakers of various ages. A number of movies covering a wide range of social topics have been produced as a result. After completing the courses, individuals are then armed with the knowledge that allows them to utilize their art as a weapon. Some go on to make their own compelling movies, allowing viewers to see the urban jungle in a totally different light as they reveal social ills that hardly ever get noticed.