Documentary cinema and educational programs at Maysles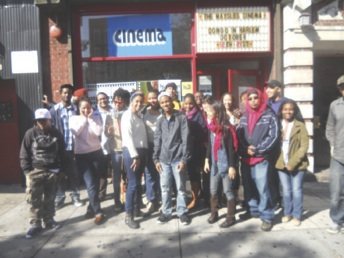 "We have an advanced teen producers' academy which is working on a guns-and-violence project called 'Triggering Wounds,'" Christine shares, explaining that "it's a short documentary being produced in partnership with Harlem Hospital and the D.A.'s office." They plan to show it Jan. 21 to 28.
Prior research by the youths revealed an increased number of Harlem shootings in recent years, sparking the urgency to produce this flick. Those directly impacted by this issue can also be the best qualified to speak about it, which led to this concept.
"So that's been our role in creating this documentary--adding a media component to the work so many organizations are already doing in Harlem to address the issue of gun violence," Peng states.
The cinema's director, Jessica Green, confides, "This is where we're really developing our identity as a community center for documentary films. The youth in our program have been developing this project."
Devoted exclusively to showcasing documentary movies and the only independent film house north of Lincoln Center, the Maysles Institute conducts forums and/or programs at least four nights a week.
Albert concludes: "As a documentarian, I happily place my fate and faith in reality. It is my caretaker, the provider of subjects, themes, experiences--all endowed with the power of truth and the romance of discovery. And the closer I adhere to reality, the more honest and authentic my tales. After all, the knowledge of the real world is exactly what we need to better understand and therefore possibly to love one another. It's my way of making the world a better place."
For more information, email cinema@mayslesinstitute.org, call 212-582-6050 or visit http://mayslesinstitute.org.