Imhotep's guide to black events 12/27/12-1/2/13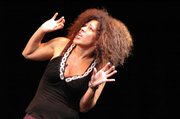 Greetings! As we approach the end of the year, with the winter solstice behind us and as we prepare to bring in 2013, we greet you with wishes of peace and safety as you move through Kwanzaa 2012. We also send out best wishes to our beloved radio personality Brother Bernard White, also founder of CPR Metroradio.org, who has been hospitalized. Best wishes to you and your families this holiday season. Happy New "You"!
Sandy
Rep. Gregory Meeks' office has valuable information on a wide range of post-Sandy services, including the Rapid Response Program. Contact Meeks at 718-725-6000 or visit him online at www.meeks.house.gov.
Activist and author Kevin Powell and April Silver of Akila Worksongs have done vital work on organizing critical info and services. Text "sandy 411" to 33233 for updates, relief and resources or visit www.kevinpowell.net/blog/2012/11/new-york-post-hurricane-sandy-inforesources.
Theater
The world famous Apollo Theater presents, for the holiday season, our annual Kwanzaa "Regeneration Night" celebration, featuring the amazing Forces of Nature Dance Theatre under the brilliant direction of Abdel R. Salaam, hosted by yours truly, Imhotep Gary Byrd. Fri, Dec. 28 at 7:30 p.m. For more information, visit www. apollotheater.org.
"The Piano Lesson," directed by the brilliant Rueben Santiago Hudson. Pulitzer Prize winner August Wilson's epic saga set in Pittsburgh's Hill District in 1936, featuring the Charles family, a battle of surroundings and a shared legacy--an antique piano. Signature Theatre at the Pershing Square Signature Center, 480 W. 42nd St. (between Ninth and 10th avenues). Extended through Jan. 13. Box office: 212-244-7529. For groups of 10 or more, call 646-388-8113 or visit www.signature theatre.com.
In "Fried Chicken and Latkes," Rain Pryor, daughter of late comedic genius Richard Pryor, stands on her own with a solo show, including a "parade of friends, relatives and tormentors" plus impressions of her dad. She reveals a surprisingly strong singing voice. Actors Temple Theatre at Congregation Ezrath Israel, 339 W. 47th St. Open run through Feb. 25, 2013. Ticket information at Telecharge: 800-432-7250 or 212-239-6200, www.telecharge.com.
"Tar Baby," featuring Desiree Burch. It took over 200 years to build race relations in America, but it will take international performer and comedian Desiree Burch under two hours to dismantle them. "Tar Baby" is the story of America's infamous Black and white love affair. Drawing on folktales, history and autobiography, Burch speaks to the growing majority of minority experiences in America. DR2 Theatre. 103 E. 15th St. Preview date: Jan. 5, 2013. Opening: Jan. 8, 2013, closing Jan. 19, 2013. Ticket information at Telecharge: 800-432-7250 or 212-239-6200.
Music
B. B. King's Blues Club presents Motown legend Martha Reeves and the Vandellas, Sun., Dec. 30, at 8 p.m., plus "A Gospel Brunch" with the Harlem Soul Choir, held every Sunday. For more information, call 212-997-4144 or visit www.bbkingblues.com.
Birdland presents Arturo O'Farrill and the Afro Latin Jazz Orchestra, every Sunday at 9 p.m. and 11 p.m. 315 W. 44th St. Call 212-581-3080 or visit www. birdlandjazz.com.
Community
The National Association of Kawaida Organizations (NAKO), in conjunction with the International African Arts Festival (IAAF), will host the 46th anniversary celebration and practice of Kwanzaa. The creator of Kwanzaa, Dr. Maulana Karenga, will be present to deliver his yearly founder's statement entitled "Kwanzaa, Us and the Well-being of the World, A Courageous Questioning."