Return to Puerto Rico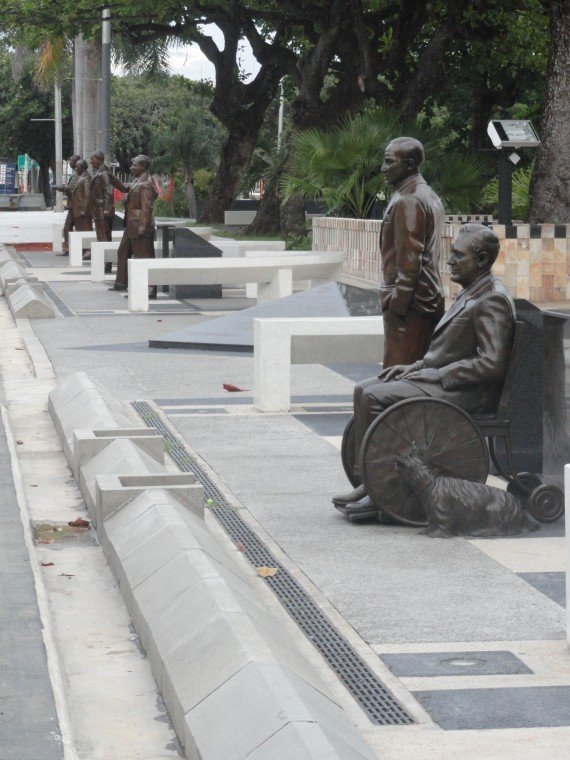 Puerta de San Juan ("San Juan Gate")--the point of re-entry inside the walls of the city--is one of six original massive wooden doors that closed at sundown to protect the residents centuries ago, while La Muralla ("City Wall") was constructed with sandstone blocks up to 20 feet thick.
El Palacio Santa Catalina, known as La Fortaleza ("Santa Catalina Palace," "The Fortress"), built in 1540, is the oldest governor's mansion in the Western Hemisphere still in use.
Old San Juan possesses some of the oldest churches in Puerto Rico, including Iglesia San Jose ("San Jose Church"), built in the 1530s as a Dominican monastery chapel dedicated to Saint Thomas Aquinas; the Jesuits who took over in 1865 renamed it.
Then there are Catedral de San Juan ("San Juan Cathedral"), the first church on the island and the oldest church in the Western Hemisphere, and Capilla de Cristo ("Christ Chapel"), a small chapel built in 1753 which became a center of devotion where the faithful left offerings of gold and silver that were eventually molded into an elaborate altar, candelabras and other religious objects now on display.
Tributes to History
One of the newest and most poignant historic sites in Puerto Rico is the Monumento a la Memoria del Holocausto ("the Holocaust Memorial"). Although many think of the Holocaust only as a remembrance of the thousands of Jewish people who were murdered, it is really in numerous ways about the history of mankind and the atrocities that a particular people sometimes are forced to endure, while also imploring future generations to ensure that they are not repeated. Forming a semi-circle behind the beautiful main sculpture is a series of historic markers that illuminate various aspects of that time in history and the people involved.
Right next to the monument is another memorial, in this case to the Masacre de Lod ("Lod Masacre"), referring to the 1972 murders at the Lod Airport (now Ben Gurion Airport) in Israel, when three Palestinian terrorists opened fire on passengers waiting for their luggage, ultimately wounding 78 and killing 26--17 of whom were Puerto Ricans traveling to the Holy Land.
Another eye-catching historic site in town is the Walkway of the Presidents, situated, fittingly, across the street from the San Juan Capital Building. Here you will find spectacular bronze life-like and life-sized statues, accompanied by historical markers, of Presidents Ford, Kennedy, Eisenhower, Truman, Roosevelt, Hoover and, my favorite, Obama!
"BIEN RICO!"
Or in English, absolutely delicious!
Although providing just a snapshot of the excellent epicurean adventures in Old San Juan is like getting all dressed up for a fancy dinner then only ordering an appetizer, I couldn't leave here without giving you at least a few morsels about the amazing Puerto Rican, Caribbean and international cuisine served everywhere from quaint neighborhood cafes to upscale establishments. Again, there are so many wonderful ones to mention--don't hate it if one of your faves is not on the list!:
The Parrot Club: Distinctive Puerto Rican fare plus Latino cuisine with a creative modern twist
Dragonfly and Dragonfly Too: Creative, Asian-inspired fare and exotic cocktails in a fun and funky nightclub atmosphere.
Barrachina: A San Juan landmark for over 40 years and reportedly where the pina colada was first created.
Amadeus Bistro Bar: Amazing international epicurean delights with a very Caribbean and European feel and flavor.
Tantra: Innovative Indo-Latin cuisine with Indian flavors.
Melao: Traditional Puerto Rican and Caribbean fare coupled with innovative steak and seafood dishes.
Restaurant Panorama Bar and Latin Grill: Delicious Creole and international food in a unique, casual atmosphere overlooking the harbor at the top of the boutique Hotel Milano.
Aguaviva: Specializes in seaside Latino cuisine complemented by a comprehensive wine list with offerings from around the world.
Bodega Chic: A delightful French-Algerian bistro serving mouthwatering Caribbean and Mediterranean dishes.
Bossa Nova: Featuring outstanding Brazilian fare with electric ambiance.
Alas, it is time to head back on the ship and set sail for our last two exciting ports of call: St. Thomas in the U.S. Virgin Islands and Half Moon Cay in the Bahamas.
Resource List
Puerto Rico Tourism Company: www.seepuertorico.com
Holland America Line: 877-932-4259, www.hollandamerica.com