NAACP Board of Directors unanimously passes Wilmington 10 pardon resolution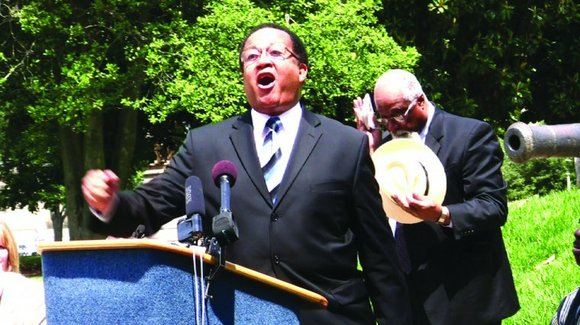 By a unanimous vote, the national NAACP Board of Directors passed a resolution on May 19 supporting the North Carolina petition for individual pardons of innocence for the Wilmington 10.
The motion was introduced during the NAACP board retreat in Miami.
"The NAACP affirmed its support for the 'Wilmington 10,' a group of civil rights activists who were falsely convicted in [1972] and spent nearly a decade in jail for their dissenting political views," the board said in a May 24 press release, calling the vote "among topics of major resolutions."
According to the NAACP's website, "Resolutions passed by the NAACP National Board of Directors set national policy for the 103-year-old civil rights organization, and provide guidance for NAACP state conferences and local units in their advocacy efforts."
Passage of the resolution reaffirms the support expressed two months ago by NAACP President and CEO Benjamin Todd Jealous, who told North Carolina newspapers the Wilmington Journal and the Carolinian of Raleigh that as long as the North Carolina NAACP was onboard, he supported the pardon effort all the way. "It's a priority for [the North Carolina NAACP]; it's a priority for us," Jealous said on March 24 during a visit to Raleigh for the NAACP Southeast Regional meeting. "And so in the case of the Wilmington 10...we will push and support our state conference in their push to ensure that finally their names are cleared."
Saying that it was "one of the proudest things I've ever done in my life," the Rev. William Barber, president of the North Carolina NAACP and a national NAACP board member, and veteran civil rights attorney Al McSurely of Chapel Hill, N.C., crafted the resolution's language.
Barber, who is also chair of the national NAACP's Political Action Committee, then asked NAACP Chairwoman Roslyn Brock to have the meeting agenda amended to allow for the proposed resolution to be heard, which it was without objection.
Guilford County, N.C., Commissioner Carolyn Q. Coleman, an NAACP Executive Committee board member, introduced the motion, and after strong lobbying by both Coleman and Barber, it passed unanimously.
"What this means is not only do we have a public endorsement of the [national] NAACP," said Barber, "but passage of a board resolution makes this an NAACP policy throughout the entire association, and the full weight and structure [of the NAACP] is available to support and promote the call for a pardon [of innocence].
"This is why Ms. Coleman and I felt it necessary to insist and ensure that this resolution passed."
The draft resolution to the NAACP Board supporting the petition for pardons of innocence for the Wilmington 10 reads:
"WHEREAS in September 1972, 10 young North Carolinians were tried and convicted of major felonies in New Hanover County [N.C.];
"AND WHEREAS after the dust settled, it turned out their main crime was trying to obey the law, namely the requirements of the U.S. Constitution and the U.S. Supreme Court to dismantle the separate and unequal school systems of New Hanover County;