NAACP Board of Directors unanimously passes Wilmington 10 pardon resolution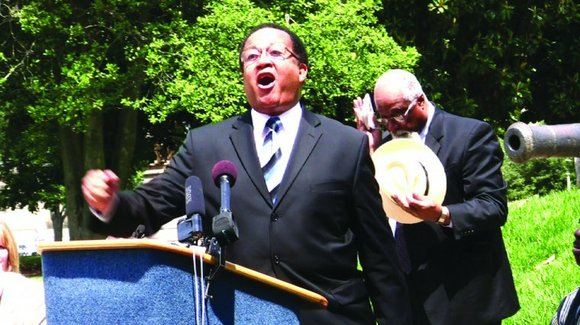 "AND WHEREAS the young people were Benjamin Chavis, Wayne Moore, Marvin Patrick, Connie Tindall, James McKoy, Willie Vereen, Reginald Epps, Anne Shepard-Turner, William 'Joe' Wright and Jerry Jacobs, and were popularly called 'The Wilmington 10';
"AND WHEREAS in 1980, after the young people had spent many years in prison, the U.S. Court of Appeals for the Fourth Circuit ruled they had been victims of outrageous acts of prosecutorial misconduct, Chavis v. State of North Carolina, 637 F.2d 213, using language all too familiar to those of us who believe in racial justice in North Carolina, saying: 'The prosecution's failure to produce...to defense counsel the 'amended' statement and the record of the hospitalization of the state's key witness and the restrictions upon cross-examination of the key witness and another about favorable treatment which might have induced favorable testimony require us to overturn the convictions'
"AND WHEREAS such gross prosecutorial misconduct is too often associated with the trials of poor minorities and civil rights activists;
"AND WHEREAS each time this linkage is validated by higher courts, it widens the breach in our human family and aggravates the hurts of past indignities;
"AND WHEREAS our constitution does not empower the courts to repair and heal such breaches and wounds, but rather places such acts of human compassion in the governor's hands;
"NOW THEREFORE BE IT RESOLVED that the National NAACP will do all in its power to help its North Carolina Conference of NAACP Branches and its broad Historic Thousands on Jones Street Coalition in convincing the Hon. Gov. Beverly Perdue to grant a full pardon to the Wilmington 10 and become, as the Prophet Isaiah would say, 'a repairer of the breach.'
NNPA columnist Dr. Benjamin F. Chavis Jr., leader of the Wilmington 10 and past executive director of the national NAACP, upon hearing the news of the resolution, said, "May God continue to bless the NAACP."
The North Carolina NAACP has been very active in the newly launched Wilmington 10 pardon movement.
Last week, during its annual lobbying day at the North Carolina General Assembly, the North Carolina NAACP held a meeting with the Legislative Black Caucus, putting on a presentation about the Wilmington 10 case and the pardon effort.
By the end of that presentation, Black lawmakers voted unanimously to support the campaign and send a collective letter to Gov. Beverly Purdue, asking her to declare individual instances of "actual innocence" for each Wilmington 10 member.
Barber says he wants to have meetings with the faith community, starting in Wilmington, to get as much support from the clergy for the Wilmington 10 as possible.
Cash Michaels, a reporter for the Wilmington Journal and the Carolinian, is also the designated coordinator for the Wilmington 10 Pardons of Innocence Project, which is sponsored by the National Newspaper Publishers Association. Go to the project's Facebook page to learn more.