Broccoli, my broccoli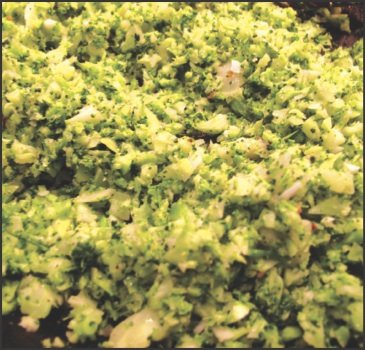 GO BIG BLUE! We did it! We are back in it! Congrats to the Giants on a great game and victory. This means this year's New York City Super Bowl parties are going to be nuts! I am thinking a really good taco bar would light up the festivities this year. Stay tuned next week...
This week I hope you'll allow me to lie down on the Talking SCHOP! therapy couch and tell you about my latest obsession with the green tree, the bouquet vert, the stalk with the talk, my main vegetable...broccoli! I know it is not loved by all, but this hearty vegetable is a staple on my table.
You see, doctors (readers), it all started when I was young and not cooking for myself quite yet. In the '70s, my mother, bless her heart, cooked vegetables to within an inch of their lives, prepared in water with butter and a bouillion cube until it was soft and army green. Of course it tasted good! This was the same woman who told my sister and me, "If you don't finish your dinner, you won't get salad for dessert!" Dastardly good tactics!
I had a healthy beginning with vegetables, but when we were old enough and started going out to restaurants, specifically Asian restaurants, my palate began to change. Shout out to the original Empire Szechuan that used to be on 97th Street and Broadway! Cathy, the owner, used to take care of us at family meals that always included broccoli in the dish or as a garnish to orange beef or sweet and sour chicken.
At Japanese restaurants I always had the tempura only because the idea of eating raw fish to most kids then was disgusting, plus anything fried wins! Of course, the delicately fried shrimp were a winner, but it was the tempura broccoli florets that really turned me out!
In both cases, it was how the broccoli was prepared: bright green and just enough crunch to satisfy the munch monster. In Chinese dishes, the sauce nestles in the crowns of the florets, adding flavor to every bite. I continue to be mystified by tempura broccoli. It's like a bull in a china shop, the delicate coating housing the vicious vegetable. I love it!
Today I am preparing broccoli in myriad ways, but however I ultimately prepare it, it all begins with cutting the head in equal-sized pieces that will take the same amount of time to cook. If it's a quick stir fry or saute, cut small. If roasting, grilling or frying, larger pieces fare better.
The crux of preparing broccoli is the steaming. Fill a pot with a lid with an inch or two of water, just enough to allow space between the top of the water and the bottom of the steamer insert. Cover and bring to a boil over medium high heat. When boiling, add broccoli, cover and steam. Three minutes for large pieces yields an al dente texture; allow more time for a softer texture.