Broccoli, my broccoli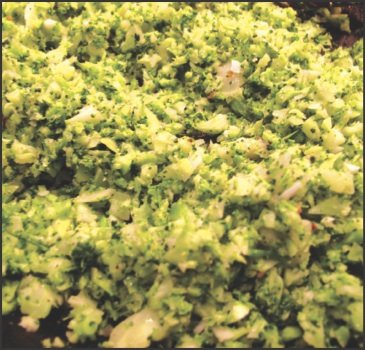 After the steaming, the sky is the limit. Liberally coat the spears with olive oil, season with salt, pepper and crushed red pepper, spread across a baking sheet and roast in a 450-degree preheated oven for five minutes until golden. While hot, toss with minced garlic and serve with a little grated Parmesan and toasted pine nuts.
My latest creation after broccoli hash with chicken sausage is "mashed" broccoli. This dish is inspired by a side dish at Chez Lucienne; however, I do not add potato for heft. Instead, when steaming a whole head of broccoli, I add one or two cloves of garlic and a quarter cup of whole raw almonds to the mix. I also steam for one minute longer so it is just a little more tender.
When the steaming is done, I put everything into a food processor with butter and olive oil (to your taste, but start with two tablespoons of each), salt, black pepper and crushed red pepper plus a small clove of raw garlic for added heat. Puree until fine and mashed-like. Taste and season as needed.
"Mashed" broccoli is the perfect faux-carbohydrate side dish when you need the texture with a different taste and effect on the body, plus it's a great dish to repurpose as a pesto. Simply boil pasta (linguine would be optimal) in salted water until it's al dente. Reserve a cup of the pasta water then strain the pasta and, in a large bowl, add it atop a cup of the mashed broccoli and grate in Parmesan cheese. Toss-using the reserved pasta water to loosen and combine-until the pasta is coated. Serve with more grated cheese on top.
Thank you for letting me talk through this vegetable obsession with you. The check is in the mail!
Enjoy, get eating and thanks for reading!
Follow me on Twitter
@SCHOPgirl, join the family on Facebook by searching "SCHOP" and please subscribe to my blog for more recipes, tips and food musings.
Questions at dinnertime? Chat with me at AskSCHOP, Monday through Friday,
6-8 p.m.
Kysha Harris is owner of SCHOP! which is available for weekly service or for home entertaining. Questions? Comments? Requests? Feedback? Email kysha@iSCHOP.com.