Ebony Escapes! to Evansville, 'The River City'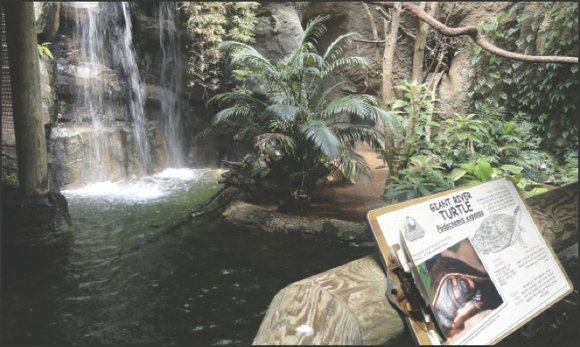 Skip a little further down Riverside Drive and you come to the Aztar Executive Conference Center, featuring a glass-enclosed skywalk connecting to the Riverfront Pavilion, home to several restaurants (we'll come back to one outstanding one in particular!), a gift shop and the central highlight-literally-Hoosier's Lounge. A sizeable oblong bar with copious flat screens to catch all manner of local, national and international sports, Hoosier's is a cool place to have a drink, take in the ambiance and enjoy live entertainment and dancing seven nights a week.
Just behind the band stage is the entrance to the Casino Aztar Hotel. Featuring 251 rooms, the hotel is an older property so the rooms are nothing spectacular, offering only the basics in a clean and safe environment. However, guests here typically spend a great deal of their time at the casino and/or visiting the wealth of Evansville-area attractions.
The casino, the biggest draw to the District, encompasses three floors and, depending on the river's water level, guests may be entering on the first, second or third levels! Inside, the casino offers more than 50 table games and over 1,000 slot machines-the first floor is completely nonsmoking. Outside you'll find an al fresco rooftop deck with picturesque views of this scenic bend of the river and up and down the surrounding greenway.
A WALK ON THE WILD SIDE
One of the most popular attractions in town is the Mesker Park Zoo & Botanic Garden. Situated on 50-scenic acres, the zoo skillfully incorporates the meandering landscape and rolling hills of Evansville's northwest side into its layout, resulting in a multisensory, topographically distinctive ambiance in which to explore the zoo's over 700 animals in five central regions: Africa, South America, Australia, Asia and North America.
Each region encompasses scores of animal exhibits, coupled with thousands of regional and exotic species that together offer a realistic international creature experience. I was completely in awe of "Amazonia, Forest of Riches," their newest South American exhibit. This spectacular, world-class (and the zoo's largest) exhibit takes visitors from the upper reaches of the rainforest canopy-chock full of tropical trees, palms and the many creatures who make their homes there, including exotic birds and monkeys-to the rainforest floor. Here you will experience a multitude of animals and their forest habitats while traversing over bridges, under waterfalls and through a rich tapestry of hundreds of plant varieties, all peppered with educational signage and other exhibits that lend to the rainforest ambiance.
We're just getting started in Evansville and there's a lot more to come!
Resource List:
Lysa Allman-Baldwin writes for numerous online and print publications, including as the cultural travel writer for www.Examiner.com and as a senior travel writer for SoulOfAmerica.com, an Afrocentric travel website. Lysa can be reached at lallmanbaldwin@kc.rr.com.