A wealth of history abounds in Evansville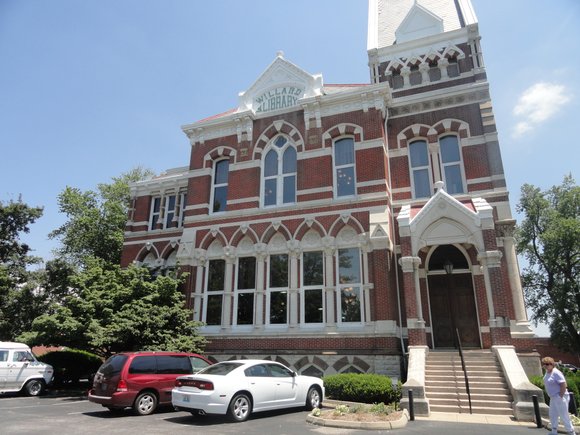 Now, you wouldn't expect this from a public library, but it has also been named the most famous haunted library in the world, so much so that fans of the paranormal flock here in droves every Halloween to attend a series of paranormal events, including looking for "The Grey Lady Ghost," who was first reported to have been seen here in the late 1930s. (These events are booked through the year 2030!) Apparently it's not a publicity stunt, as CNN and the show "Ghost Hunters" report regularly on the eerie happenings here, and the library's six ghost cameras, accessible through the Internet, are lit up every night with throngs of viewers.
Great effort has been put into maintaining the library close to its original condition, save for a handful of modern upgrades: electric lighting instead of gas lamps, plumbing, technological aspects, etc. The only area of the library that has been completely redone is the lower level, which has been transformed into a warm and welcoming children's area with kid-sized bookshelves, computer stations, a story time area and the like. (812) 425-4309, www.willard.lib.in.us
FOR THE KID IN ALL OF US
A wonderful place for the entire family is the Louis J. Koch Family Children's Museum of Evansville, referred to by the locals as "come." The facility alone is a fantastic experience, as it is located in the historic former downtown Central Library, which has been renovated to encompass 18,000 square feet of dynamic and interactive exhibits in four main galleries amidst the structure's soaring ceilings, stately columns and eye-catching architectural details.
Each gallery in the museum is chock full of full-sensory experiences that engage both kids and adults in a variety of activities. What makes each experience so fascinating is that the museum has incorporated numerous state-of-the-art microprocessor controllers throughout the facility, each lending a unique aspect to the particular exhibit.
Focusing on the arts, "Speak Loud" offers the freedom of self-expression, while the "Quack Factory" hones in on large-muscle activities with a variety of water-themed games. Exploration of the human body is found in "Live Big," and the budding engineer in your family will find oodles to imagine and build in "Work Smart," centered around engineering skill development. Because the museum also emphasizes the arts, they have incorporated a multimedia theater space called the "Freedom Gallery," with a stage for a variety of performance arts, including dance, music, storytelling and more.
One very forward-thinking aspect that impressed me was the "Drip Drop" area, which is not only geared toward babies and very young children, but is also designated at certain days and times for autistic children and their families only. Although the museum encompasses a great deal of multisensory experiences, they are often too intense for autistic children, so the design here incorporates soothing colors, a very cool rainbow wall with different textures accompanying each color so kids can distinguish them via touch instead of sight, and a "Chill Out Room" should they really need a break to calm themselves down.
Because it is a little children's area, the museum cleans this area twice daily and in the evenings to ensure the cleanlest environment possible, and offers a comfortable nursing room with leather couches and a rocking chair for parents.
This is just the beginning of all that the museum has to offer, and I have to say that although I was there without my kids, I still wanted to stay and have a great time! (812) 464-2663, www.cmoekids.org
There's more about Evansville coming up in another feature.