The Millrose Games begins a new era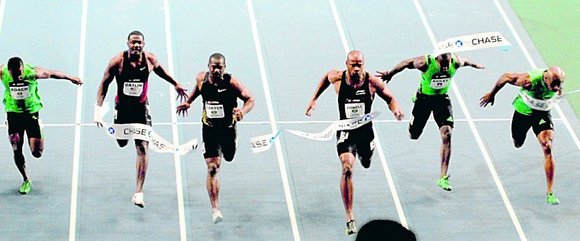 After nearly a century at Madison Square Garden, this weekend the Millrose Games moves uptown to the Armory.
Some of the best-known names in track and field are expected, including Olympic gold medalists Debbie Ferguson-McKenzie, Natasha Hastings and Sanya Richards-Ross, whose husband, Aaron Ross, just won another Super Bowl with the New York Giants.
"It's kind of bittersweet," said defending 400-meter champion Hastings, who grew up in Brooklyn and attended A. Philip Randolph. "You're talking about a track meet that has lots of history. To move it from a place as monumental as Madison Square Garden is kind of sad on one hand. On a personal note, I ran my very first indoor 400 meter at the Armory. I basically grew up on that track. I trained on that track straight through high school. Even though it's an emotional move from the Garden, it's kind of special to me to be going home, to what you could call my home track."
Although the Millrose Games is one of the best-known meets in track, some big names have recently stayed away because of the tight, banked track at Madison Square Garden. The Armory has a 200-meter track with wide lanes.
"Last year was actually the first time I've run at Millrose since going to college," said Hastings. "The Garden is a tight track and it's kind of difficult to get around those turns. I'm a little bit taller, so it's even more difficult for me...Now a lot more people will be open to coming to Millrose because it's on a better track."
It's also a homecoming for New Jersey native Me'Lisa Barber, winner of the 60 meters in 2010. This is her first meet of 2012. "Hopefully this move will be a way to make indoors become a great season again," said Barber, who moved to California last year to train alongside twin sister Miki with coach Maurice Greene. "Training is going great. I'm in a good place mentally, physically and spiritually. I'm excited to run in front of my family."
It will be the first Millrose Games for Ferguson-McKenzie, an Olympic gold medalist and world champion from the Bahamas. "The crowd and the fans are going to be amazing," she said. "I've heard so much about the tradition of the Millrose Games, so I'm definitely looking forward to it."