'Ethics minister' busts gay workshop in Uganda
2/15/2012, 2:24 p.m.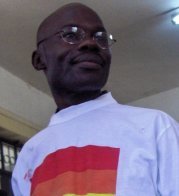 Feb. 14 (GIN) - As Washington state and New Jersey officials voted this week to legalize same-sex marriage, Uganda again turned its forces against the gay community, raiding a conference organized by Freedom and Roam Uganda, a group founded by prominent Uganda gay rights activist Kasha Jacqueline Nabagesera.
Minister for Ethics and Integrity Simon Lokodo, flanked by police, reportedly burst into the gay rights meeting claiming the gathering was illegal and said activists had to vacate the building or force would be used against them.
The incident comes days after the reintroduction of the country's notorious 'Kill the Gays' bill to Parliament last week. An MP re-introduced the controversial anti-gay bill which would increase penalties for homosexual acts, which are illegal, from 14 years in jail to life.
Elsewhere, a documentary film entitled "Call me Kuchu," about the Ugandan gay community, premiered this week at the Berlin Film Festival. It documents the last year in the life of Ugandan gay activist David Kato before he was murdered in January 2011, and also features other activists. Katherine Fairfax Wright and Malika Zouhali-Worrall, from the US and UK respectively, are the filmmakers of "Call me Kuchu."
In a press interview, Wright said: "While the LGBT community certainly suffers under Uganda's harsh state-sanctioned homophobia, many of the "kuchus" (gays) we met were not simply 'victims.' David Kato and his fellow activists worked hard to change their own fate through every means possible: the Ugandan courts, the United Nations, the international news media. As a result, Call Me Kuchu is a nuanced story of empowerment as much as persecution."
The trailer for the movie can be seen at: http://callmekuchu.com/trailer/