Ronald Johnson serves pie and life lessons in Harlem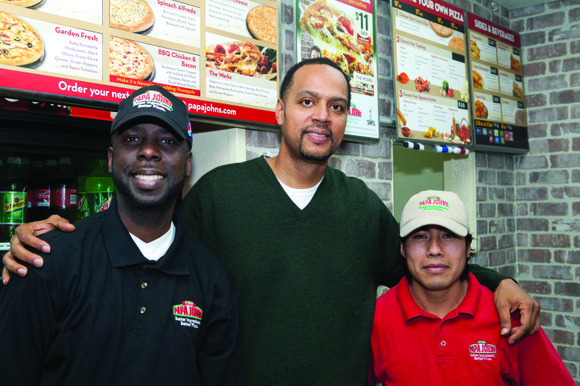 "We've scheduled sensitivity training for my company. We've learned a very valuable lesson, and that lesson is that there is never enough training. We all have to be caretakers of culture and we have to protect and nurture culture. We need to be transmitting this to our children and we're not doing that," Johnson said.
"I hire young people, Black and Latino kids, for three hours a day. You become their teacher, their priest," he went on to say. "There are so many issues that these kids have. Can you shape a person's life in that short a time? I'd like to think that if we act in a positive fashion and serve as positive role models, that maybe we can. These are good, solid people who make mistakes. I am deeply saddened by this and it's a lesson learned.
"We serve with the utmost courtesy and respect. It's something I drill. We try to do our very best to treat the people of Harlem with respect. Business should not be asked to solve social problems, and this is a social problem.
"They come out of school and they come to work. We're the next step. We try to shape them into productive employees. I try and train them in the ways of making a product and making money," Johnson said.
Papa John's issued an official statement regarding the incident: "We were extremely concerned to learn of the receipt issue in New York. This act goes against our company values, and we've confirmed with the franchisee that this matter was addressed immediately and that the employee is being terminated. We are truly sorry for this customer's experience."
While this was a harsh lesson to learn, it was, in fact, one of the many important lessons that Johnson's employees take with them.
He starts at the beginning, helping young job seekers spruce up their resumes, correcting language and grammar. He also teaches them about proper business conduct, things like being on time and dressing appropriately.
"There's a basic business principal about coming to work on time. I can't tell a customer that they can't have a pizza because my employee didn't come to work on time," Johnson said.
Johnson is also quick to spring into action to help his community. When he heard that schools were cutting back on the traditional pizza party due to lack of funds and that teachers were paying for them out of their own pockets, he stepped in to help.
"Pizza parties are great social outlets for these kids. We work with schools here in Harlem like Frederick Douglass Academy and Thurgood Marshall Academy. We also work with churches and nonprofits like Abyssinian. I'm giving back to Clifford Simmons, who got me interested in franchises in the first place. We get the product out there. It's a win-win.
"I've touched every single school in Harlem and a quarter of the churches and nonprofits. We underwrite a basketball league, and next year we may do a football league. I'm thinking about the Harlem Jets, a well supported and organized football league.
"The recession has really been bad. It has cut back on a lot that we can do, but it doesn't lessen our commitment to working with the schools or with the community because, at the end of the day, we're all suffering collectively, but we have to continue moving.
"Over the last 10 years, I would say 300 kids have gone through Papa John's Harlem. They come back and say, 'I'm in college,' 'I'm in the military.' They go off to other jobs. The goal is to leave them better than when they came in. They know how to be courteous. They know how to answer the phone. They know how to come to work on time. No one works for me who does not come to work on time. That is a big pet peeve," he said.
It's clear that Johnson is right on time in his quest to be a successful businessman in Harlem, paying it forward, helping the community and always looking for ways to improve his product and the lives of those young people who work for and with him.