It's too early to put Jeremy Lin in the Hall of Fame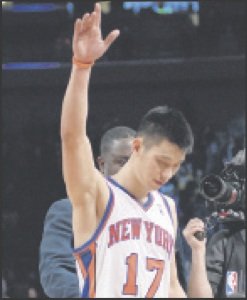 It's been a wondrous six-game ride for Jeremy Lin and his Knicks teammates, but let's hold off on putting Lin in the Hall of Fame. Lin and this Knicks team have a long way to go, with 35 games left in their abbreviated season after last night's game against the Sacramento Kings at the Garden.
First things first: The Knicks have incorporated Carmelo Anthony into their new scheme of opening up the floor, creating passing and receiving lanes for each other to be accessed by the oldest basketball journey to the hoop, the pick and roll-a marvelous, free-flowing movement of five players moving in unison that was created back in the '20s by the New York Renaissance (Rens) and the original Celtics.
These two legendary, pioneering teams introduced their flow of movement to the sport. To this day, we can still hear the growling, raspy voice of the late John Isaacs: "Get the ball off your wrist."
This ball-moving version of basketball was introduced to the NBA by the wonderfully coached Joe Lapchick Knicks teams of the '40s and '50s as well as the Red Holzman Knicks teams of the late '60s and '70s. Lapchick was a key member of the original Celtics and Holzman was among the premier players of his time.
The extremely talented Anthony has all the skills necessary to adopt this version of a free-flowing, let-everyone-touch-the-ball offense. As we wrote some weeks ago, Tyson Chandler was a lost soul in Knicks coach Mike D'Antoni's two-man star system of Amar'e Stoudemire and Anthony. Now they both have an opportunity to become part of a rhythmic, five-man, ball-sharing, free-flowing system.
Toney Douglas, Bill Walker and Iman Shumpert have the skills to follow the leadership of Lin, who has demonstrated the craftiness of sharing and moving without the ball, setting screens and being a caring teammate.
Last, the Knicks! With a gym full of coaches, the question has to be asked: Did Lin ever practice with the team prior to six games ago? If no, why not? And if he was practicing, what were D'Antoni and his staff watching?