An artistic history at the Schomburg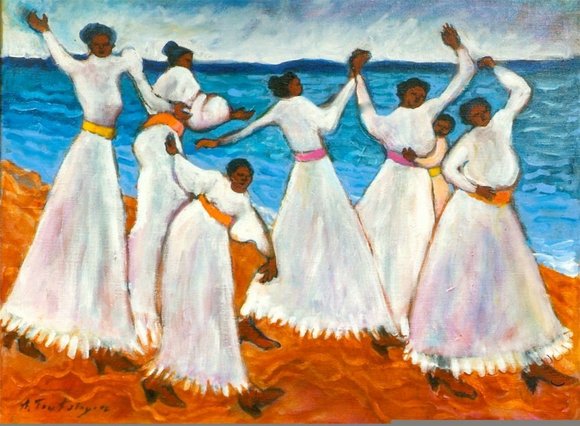 The National Conference of Artists (NCA), the oldest African-American visual arts organization in the United States, is presenting a stunning array of exhibitions and events in salute to both Black and Women's History months at several galleries and museums in New York City. Harlem's Schomburg Center for Research in Black Culture is a primary exhibition site.
The NCA was founded in 1959 at Atlanta University and is active in art education, cultural events and exhibiting the work of both emerging and established Black artists. The New York City chapter was established in 1973.
"We are delighted to return to the Schomburg," said Gloria Aziza Lawyer, one of the curators of the exhibition and a presenting artist. "Many of the NCA artists featured in the exhibition have a long-standing history with the Schomburg."
A host of activities are on the calendar. On Thursday, Feb. 23, the NCA's Cultural Conference will be held from 1 to 4 p.m. at the Schomburg's American Negro Theater, 515 Malcolm X Blvd. at 135th Street.
The gathering will feature an exhibition titled "Movements & Moments in Spring," which showcases the work of seven African-American contemporary female artists: Ann Tanksley, Betty Blayton, Deborah Shedrick, Dindga McCannon, Howardena Pindell, Saundra Sadakeisha Collier and Lawyer.
In addition, the unique expressions of each artist will also be showcased during the Schomburg's Women's History Month exhibition, which will be on view from now until April 2012.
Similarly, on Friday, Feb. 24, from 10 a.m. to 4 p.m., the NCA's "Black Art History Maker's Awards" will be presented at the Metropolitan Museum of Art. The ceremony will be held in the museum's Bonnie J. Sacerdote Hall, at 1000 Fifth Ave.
This year's awardees include Dr. Ed Jackson, executive architect and chair of the Design Committee for the Washington, D.C., Martin Luther King Jr. National Memorial Project Foundation Inc.
And on Friday, Feb. 24, from 6 to 9 p.m., the Dwyer Culture Center, located at 258 St. Nicholas Ave. in Harlem, will host a reception for "Amazing Grace," an exhibition of paintings, graphics, sculpture, photography and mixed media art.
The next day, Saturday, Feb. 25, from 10 a.m. to 4 p.m., the Bedford-Stuyvesant Restoration Skylight Gallery, at 1368 Fulton St. in Brooklyn, will host an array of events, including art panels, guest speakers and art demonstrations.
For specific information about the gallery's planned festivities and events, contact Ed Sherman, acting president of the New York chapter of the NCA, at (212) 926-8025.