History past and present in Evansville, Ind.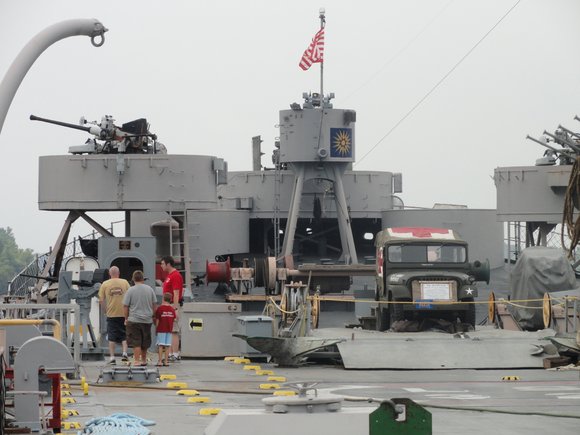 Today, the ship remains one of only two WWII LSTs to be preserved in the country, and when current renovations are complete, it will serve as a museum and memorial ship that exudes and illuminates a pivotal part of the history of the United States, World War II, ship building and sailing and the many, many soldiers and crew members who put their lives and careers on the line for so many decades.
Despite the renovation work, visitors today will find a magnificent amphibious vessel resting in a brand-new $3 million docking facility, manned by a dedicated cadre of volunteers whose commitment and love are revitalizing this important relic.
Your first stop on the LST is the weather deck, where wheeled vehicles are moved from and to the lower levels via a 22,000-pound load elevator. It is on this deck that you begin to get a true sense of the ship's scale, though you may not realize that its dimensions are an astounding 328 feet by 50 feet, more than 25 feet longer than a football field, which, by the way, you will have walked twice by the time the tour ends. In total, it can hold 500 soldiers and a crew of 150.
Each aspect is even more fascinating than the next, encompassing the gunners, control room, officers' and enlisted men's quarters, equipment room, tank deck and more than a dozen compartments for the machine, battery and welding shops and water, fuel and other types of storage, all of which are still in use today.
Unlike most other military ships open to the public, the LST leaves its port occasionally for special events, attracting thousands of visitors of all ages.
MUCH ADO ABOUT EVERYTHING!
There are so many popular attractions in the Evansville area that one could go on for several more pages. Nevertheless, I wanted to mention several to keep in mind as you consider what to see and do, including the John James Audubon State Park and Museum; Grouseland, William Henry Harrison's home; the Burdette Park and Aquatic Center; Wesselman Woods Nature Preserve; and the Lincoln Boyhood National Memorial.
An honorable mention goes out to the Evansville Museum of Arts, History & Science, which has been recognized as "one of southwestern Indiana's most established and significant cultural institutions." This year it will celebrate the 108th anniversary of its collections, which encompass a wide array of the arts, history, science and anthropology. The museum facility itself is stunning and a magnificent showplace for the works found in its numerous permanent and temporary exhibit galleries. The museum also has the Koch Planetarium and a hands-on science center.
In our next Evansville adventure, we'll learn about the area's African-American history and more.