HADlEY Players host 'Arye' at HSOTA
2/23/2012, 1:54 p.m.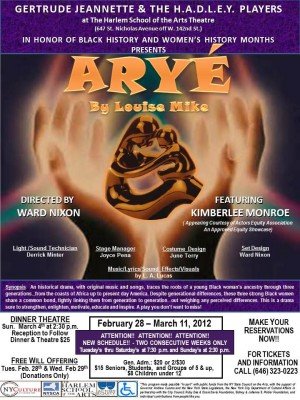 HADLEY PlAYERS' GREAT "ARYE" OPENS FEb. 28 AT HSOTA: Gertrude Jeannette and the HADLEY Players are proud to present, in honor of black History and Women's History months, their winter production of louise Mike's dy- namic play "Arye," directed by Ward Nixon and featuring award-winning actress Kimberlee Monroe.
This incredible, historical drama, with original music and songs, traces the roots of a young black woman's ancestry, focusing on three generations...from the coasts of Africa to the plantation days in this country up to the present day. Despite generational differences, these three strong black women, who lived in very different time periods, share a common bond that tightly links them from generation to generation, outweighing any perceived differences.
A drama for the whole family that's sure to strengthen, enlighten, moti- vate, educate and inspire, it's a play you don't want to miss! "Arye" will play from Feb. 28 through March 11 at the Harlem School of the Arts Theatre, located at 647 St. Nicholas Ave., at 142nd Street in Harlem.
The show dates and times are Tuesdays through Saturdays at 7:30 p.m. and Sundays at 2:30 p.m.
General admission ticket prices are $20 or two for $30; $15 for seniors, students or groups of five or more; and $8 for children under 12.
The preview dates, featuring free will offerings (donations only), are Tuesday, Feb. 28 and Wednesday, Feb. 29 at 7:30 PM
Dinner theater will take place on Sunday, March 4 at 2:30 p.m. The ticket price will be $25 for everyone. This includes a dinner reception and refreshments immediately following the show.
Please make your reservations now! Tickets will go fast! This is a show you will definitely want to see! For ad- vance ticket sales and reservations, please call (646) 323-0223.
Please note that the HADlEY Players now present six shows per week for a consecutive two-week period. Again, Tuesday through Sunday (six shows) for week 1 and Tuesday through Sunday (six shows) for week 2. This new sched- ule replaces their previous week- end-only schedule.
Trust me, you, your family and friends will totally enjoy the wonderful "Arye."
"SALLY & TOM (THE AMERICAN WAY)" IS A BIG CASTILLO THEATRE HIT: it's 1789, and teenage Sally Hemings returns from Paris with the soon-to-be president of the United States, Thomas Jefferson. She is in love with him, and she is his slave.
With beautiful music by Grammy-nominated songwriter Annie Roboff, this dramatic musical follows Hemings and Jefferson's love affair over a quarter century as it becomes a scandal in the press, produces five children and forces Hemings to confront the relative privileges of her life and the injustices of slavery.
The book and lyrics are by Fred Newman, with music by Roboff. The musical is directed by Gabrielle l. Kurlander and features the music team of David belmont and Michael Walsh and choreography by lonne Moretton.
"Sally and Tom" features Sean Patrick Gibbons, Brian D. Hills, Ava Jenkins (2011 AUDELCO Award winner), Adam Kemmerer, David Nackman and Jacqueline Salit.