HADlEY Players host 'Arye' at HSOTA
2/23/2012, 1:54 p.m.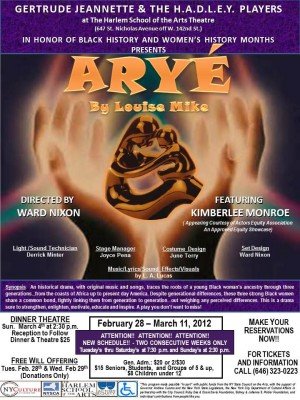 The powerful play opened Friday, Feb.17and runs through March25. Stephen burrows designs for Raven Denim at 7:30 p.m. and Sundays at 2 p.m.
For tickets and more information, call the Castillo Theatre box office at (212) 941-1234 or visit www.castillo.org.
Trust me, "Sally and Tom (The American Way)" is one great play you, your family and friends will totally enjoy.
LAST WEEKEND TO SEE "THE WiDOW AND MISS MAMIE" AT HSOTA: The five-time AUDELCO Award-winning musical production of "The Widow and Miss Mamie," playing at the Harlem School of the Arts (HSOTA), was written, produced and directed by lee Kirk. The play focuses on the conflict between the widow of the recently departed big Deal Willie and his mistress, Miss Mamie. Set in New Orleans in the 1950s, the play is rooted in town gossip, but it's the music that sets off.
The remaining show dates and times are Friday and Saturday, Feb. 24 and 25 at 7:30 p.m. and Sunday, Feb. 26 at 6 p.m. General admission tickets are $18.
Tickets are available by calling Ovationtix at (866) 811-4111. For additional information, go to www.thewidowandmissmamie.com.
HSOTA is located at 647 St. Nicholas Ave. at 142nd Street, New York, N.Y.
Be sure to go see and totally enjoy Kirk's great musical, "The Widow and Miss Mamie."
Here's wishing you a wonderful week ahead.