RIP Whitney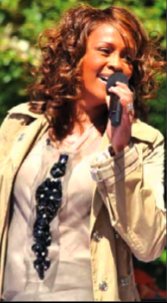 Warwick, Houston's cousin, and bobbi Kristina, Houston's daughter, were among a gallery of friends and relatives in the church's first pews.
Bobby brown, Houston's ex- husband and Kristina's father, appeared at the services, but left with his other children after being moved from three different locations in the church.
Alicia Keys and Stevie Wonder moved the church with their performances, both behind the keyboard where Winans would later perform with members of his family in the pulpit, including bebe and cece Winans, who poured out her soul on "Don't cry for Me."
After being given a tissue to wipe away her tears, Keys practically screamed out to high heaven in song. Wonder was equally powerful with his reworked version of "Ribbon in the Sky."
"i want to thank God for allowing me to be in this world at the same time as Whitney,"
Wonder remarked. "in my fantasy world, i had a little crush on her. i think everyone did."
There were memorable performances from R. Kelly and he Rev. Kim burrell, who was singled out for praise by cNN commentators.
Among the highlights that were repeated for several days on the national networks was the appearance of Kevin costner, who played opposite Houston in the movie "The bodyguard."
Costner, like Houston, was a product of the baptist church. He recalled how nervous Houston was during her screen test for the role.
"The Whitney i knew was still wondering if 'i'm good enough,'" he quietly reflected. "'Am i pretty enough?'
'Will they like me?'" He recalled that this was "what made her great and what caused her to stumble at the end."
There was no sighting of Denzel Washington, though he was among the celebrities invited to the services. Washington starred with Houston in "The Preacher's Wife" in 1996.
Others at the funeral were the Rev. Jesse Jackson, who sat in the pulpit; the Rev. Al Sharpton, who would later be interviewed by cNN; Khan; New Jersey Gov. chris christie, who continues to catch flak from Army veterans for choosing to lower the state's flags to half-staff; Mayor cory booker of Newark; song-writer Diane Warren; Tyler Perry; vocalist Darlene love; Mariah carey; Oprah Winfrey; the bishop T.D. Jakes; Antonio "l.A." Reid; brandy; and Ray J, the singer Houston was rumored to be in a relationship with before her death, according to the Associated Press.
Only the most steel-willed could hold back tears when Houston's body was carried from the church with the retinue led by cissy Houston as they stepped slowly to Whitney's soaring voice, which filled the church, declaring "i Will Always love You."
That was the universal sentiment, particularly from fans lined up outside, many of them breaking out in song or playing various instruments. They were there too on Sunday to watch the funeral cortege as it moved slowly to Westfield, N.J.'s Fairview cemetery, where Houston will be interred next to her father, John Russell Houston, who died in 2003.
Warwick said it best: "God has set her free."