Threats of violence spark war flashbacks as Libeiran election goes forward
1/18/2012, 1:35 p.m.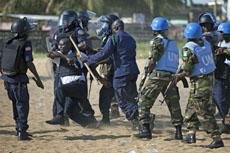 Nov. 8 (GIN) - Threats of a mass boycott of Liberian national elections by opposition party leader Winston Tubman sparked fears of a return to civil war chaos, prompting voters to stay home in droves, it was reported.
Poll observers in Monrovia reported many fewer voters than in the first round vote last month. Sporadic outbreaks of violence left at least five people dead despite the presence of U.N. peacekeepers and a Nobel Peace Prize president, Ellen Johnson-Sirleaf, who has been favored to win this second run-off voting round.
Johnson-Sirleaf's rival for the top spot is ex-justice minister Winston Tubman from the Congress for Democratic Change, with ex-soccer star George Weah as his running mate. Votes are being tallied and the winner could be announced as early as this week.
Tubman had demanded a delay of two to four weeks after finding three ballot boxes he said were tampered. His call for a boycott was rejected and criticized by international observers, ECOWAS and other regional bodies.
Meanwhile, a study by the Liberia Media Center found bias in the majority of the print and electronic media. The study titled "Because Accountability Matters," covered the period of Sept-Oct 2011, and involved seven radio stations and 11 newspapers.
"The media performed dismally in reporting on political parties, candidates and issues regarding the electoral processes," the report read. "Programming accounted for the unprofessionalism and biases of the media."
Journalists must remain non-partisan even if they are in the employ of media owners with partisan agenda," said the Center's director, Lawrence Randall. "Above all else, media owners should seek to promote diversity and undue monopolization of their outlet by any single political party."