An Evening Honoring Sonia Sanchez
1/21/2012, 10:09 a.m.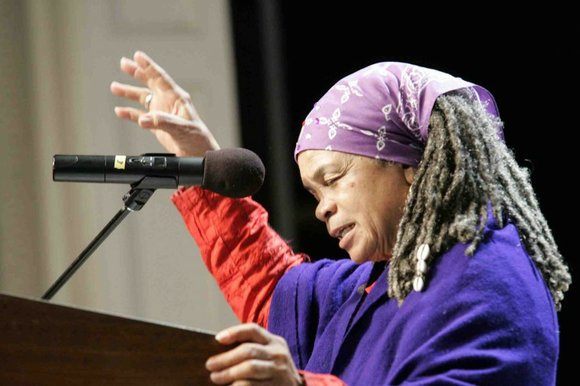 On Jan. 25 at 8:00 pm, the Artivist Film Festival honors Sonia Sanchez with a special screening of "Sonia Sanchez: Shake Loose Memories." She is a poetry icon, professor emeritus at Temple University, co founder of the Black Arts Movement, pioneer of the Black studies program at San Francisco State, and a tireless fighter for human rights. She is a stuttering child from Alabama, abused step-daughter from Harlem, single mother struggling to raise her children, artist revolutionary battling oppression on all fronts. Sonia's poetry, performance and reflections weave together to create a moving "cine poem." "Shake Loose Memories" celebrates the work of Sonia Sanchez as a poet and activist. The film is anchored around interviews with Sanchez, Amiri Baraka, her family, and two live performances of "The "Full Moon of Sonia," a ground breaking eclectic mix of spoken word, jazz, R&B, hip-hop, and blues celebrating her life and work of a cultural icon. Sonia Sanchez' influence is far-reaching and wide ranging and can be heard in such artists as Mos Def, Jill Scott, and Talib Kweli, to name a few. She is most often associated as a beacon of the Black Arts Movement.

The evening's film program includes the Award Winnings Shorts: "Bid'Em In" directed by Neal Sopata, and "Umoja Directed by Elizabeth Tadic; followed by a special screening of "SONIA SANCHEZ: SHAKE LOOSE MEMORIES", a musical and poetic journey through the life, art and activism of Sonia Sanchez. The award will be presented by Jamal Joseph, director/filmmaker of "Shake Loose Memories" and professor and Chair of Columbia University's Graduate Film Division and the artistic director of the New Heritage Theater in Harlem. A clip of the film is available at http://www.youtube.com/watch?v=9kD1rEEEcz0

Tickets for the Festival are FREE and open to the public but advance reservations are required. For details about the evening and to make free reservations go to http://artivist-nyc2-estw.eventbrite.com/