Etta James, powerhouse 'At Last' singer, dies at 73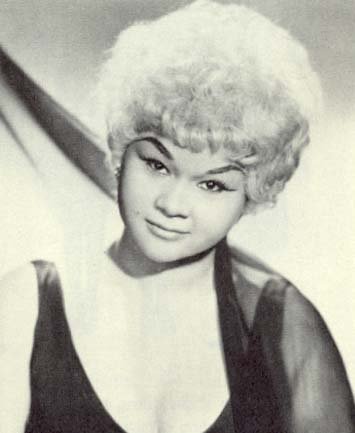 Etta James, the vocalist with the smoky, bold, bluesy voice that defied music genres on hit tunes like "Don't Tell Mama" and "At Last," died Friday, Jan. 20. Her longtime manager Lupe De Leon said the cause of death was due to complications from leukemia. James was 73 and lived with her husband in Riverside, Calif.
James died at Riverside Community Hospital. She had been in failing health for several years and suffered from leukemia and kidney disease.
In the early history of rock 'n' roll in the 1950s, James was the female artist to be reckoned with. She set the bar for generations to come, from Janis Joplin to Bonnie Raitt, Amy Winehouse and Beyonce Knowles. James, like Ruth Brown, was a hard-working performer who let everything out on stage, sassy and straight from the gut.
Her inductions into the Rock and Roll Hall of Fame and the Blues Hall of Fame demonstrated that her soulful, deep, heartfelt ballads and blistering blues timbres could not be set in any one genre like blues, rock 'n' roll, jazz or R&B.
James' six Grammy Awards show her innate talent for American popular music; her first, in 1994, was awarded for Best Jazz Vocal Performance for her album, "Mystery Lady: Songs of Billie Holiday." Other awards were given for "Let's Roll" (Best Contemporary Blues Album, 2003) and "Blues to the Bones" (Best Traditional Blues Album, 2004). That same year, Rolling Stone magazine ranked her No. 62 on their list of the 100 greatest artists of all time.
Two of her early songs were given Grammy Hall of Fame Awards: "At Last" in 1999 and "The Wallflower (Roll With Me Henry)" in 2008. In 2003, she was awarded the Grammy Lifetime Achievement Award.
In 1990, James received the NAACP Image Award. She later noted, "I cherish this award because it's coming from my own people."
Her 2009 performance at B.B. King's Blues Club & Grill in New York City was sold out. James was sporting a new look; a shorter haircut-though still blonde-and she had slimmed down considerably.
Although she sat in a chair through most of the set, she still set the house ablaze, sparking the audience to dance like her in their seats. Standing ovations were given in response to an icon giving love through her dynamic music. It was her last New York performance.
She rocked the house from blues to jazz to R&B, rock 'n' roll and back again, making it clear her huge volume and range were still quite intact. She was proud of her two sons, drummer Donto and bass guitarist Sametto, who were members of her band.
Reflecting on her drug addiction, James noted her music was a positive expression of herself and that's what she wanted people to relate to. Her autobiography, "Rage to Survive," was written with David Ritz in 1995.
James was born Jamesetta Hawkins on Jan. 25, 1938, in Los Angeles. Her mother, Dorothy Hawkins, was only 14 at the time and her father has never been identified, athough she recalled her mother saying he was the great pool player Rudolf "Minnesota Fats" Wanderone. She was raised by foster parents who were members of the St. Paul Baptist Church, where James became a popular member of the choir.