Etta James, powerhouse 'At Last' singer, dies at 73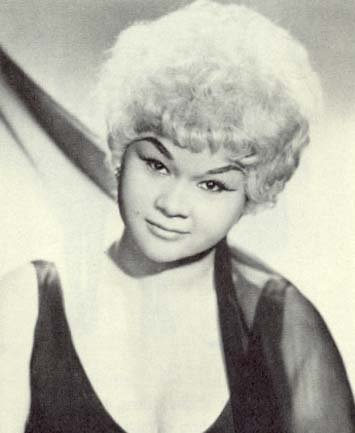 In 1950, following the death of her foster mother, James' biological mother took her to San Francisco. After a few years, at age 14, she began singing doo-wop and formed a group with friends called the Creolettes. The girls met singer/musician Johnny Otis, who was interested in them recording his "answer song" to Hank Ballad and the Midnighters' "Work With Me Annie."
Otis was instrumental in getting them signed to Modern Records. James was only 15 when she recorded "Roll With Me Henry," which she co-wrote with Otis. When the title proved to be too explicit it was changed to "The Wallflower," but the record remained intact.
"The Wallflower" hit No. 2 on the R&B charts in 1954; however, Georgia Gibbs' version, with the title and lyrics changed to "Dance With Me Henry," was a No. 1 pop hit in 1955. It was reported that James was angry about the hit but rejoiced after learning she would share the royalties with Otis and Ballad.
It was Otis who changed the group's name from the Creolettes to Peaches and reversed her name, Jamesetta, to Etta James. Some credit Otis, who is best known for his hit "Willie and the Hand Jive," with discovering James, as well as Jackie Wilson and Little Richard. Otis died at the age of 90 on Jan. 17.
In 1960, the Chess brothers signed James to their Chicago-based Chess Records roster, which included Muddy Waters, Chuck Berry and Bo Diddley. Her instant string of hits included "All I Could Do Was Cry," which hit No. 2 on the R&B charts, "Something's Got a Hold on Me," "Trust in Me" and "At Last." Her debut album, "At Last," was a colorful collage of music from jazz to blues, doo-wop and R&B. The title track became her biggest hit and signature song. James was also the background vocalist on Berry's "Back in the USA."
Established as Chess' first female star, she remained with the label until 1978. Her songs "Tell Mama" and "I'd Rather Go Blind" also became big hits; the latter became a blues classic that was covered by a variety of artists. She released two more albums in 1978-"Etta is Betta than Evah" and "Deep in the Night"-both included more rock-based music. That same year, she was the opening act for the Rolling Stones and performed at the Montreal Jazz Festival.
In 1987, she performed with Berry on his documentary, "Hail! Hail! Rock 'n' Roll." In 1989, James signed with Island Records and released the album "The Seven Year Itch," which was noted for bringing back the older raw sound of her previous records. In 1998 she issued the Christmas album, "12 Songs of Christmas."
James revisited her jazz stylings with the album "Blue Gardenia." Her final album for Private Music, "Let's Roll," was released in 2003 and won her a Grammy. Over the years, James performed at many world-renowned jazz festivals, including the Montreux Jazz Festival (four times) the Monterey Jazz Festival (nine times) and the San Francisco Jazz Festival (five times).
In 2008, James returned to the limelight when she was portrayed by Beyonce in the fictionalized film "Cadillac Records," based on the rise of fall of Chess Records. Beyonce later sang "At Last" at the inaugural ball for President Barack Obama. James stated she liked Beyonce's performance in the film, but was hurt she was not called upon to sing her song herself.
In April 2009, James made her final television appearance, performing "At Last" during an appearance on "Dancing With the Stars." Her final album, "The Dreamer," was released in November 2011.
James is survived by her husband of 42 years, Artis Mills; her sons Donto and Sametto James; and four grandchildren.