Annual International African Arts Festival thrills Brooklyn again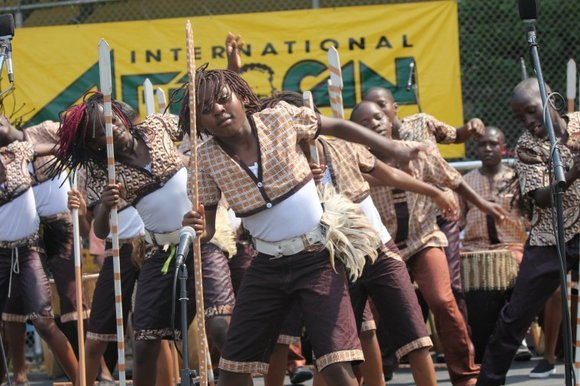 The sounds of hip-hop, drums and soukous music filled the air at the 41st annual International African Arts Festival at Commodore Barry Park in Brooklyn this past week. The event featured sounds, foods and images celebrating the African Diaspora's past, present and future.
For Rebekah Christie, it was a perfect opportunity to display her family's unisex jewelry line, including bracelets, anklets, hair pieces and nose rings, aptly called "A Family Affair."
"It is all made here by us in our home," said Christie, whose father and sister help her create the wares. "Nothing's imported. Everything's handmade by us. We take pride in the fact that everything's handmade. We feel like that's the most important thing on why we like to come here and share our pieces."
Sherimane Johnson, owner of Naturally Sweet, a food store that makes desserts using only organic and vegan products, came to the festival to promote a healthier way of eating.
"A lot of times in the African-American community, when you say, 'all natural,' 'organic' or 'vegan,' they think it's for someone else. We die by what we eat primarily more than any other population. So the whole mission of the business is to teach people that natural eating is attainable, it's delicious and is something they can apply to their lives."
"It is not as strong as it was years ago, I guess because of the times that we live in. A lot of the people just don't have money," said Ron Anderson, a volunteer attending his 32nd African Arts Festival. "But you see the traditional people. I've seen people come year after year after year to buy their stuff [here]. It's the first place that I've seen Black women of all shapes, all sizes, all colors--and that's a joy because you don't usually see that around the city. This is the one place you can come and you can see that."
The Department of Corrections worker says the festival helps Black people broaden their views. "People are just not aware of what goes on. They don't see the type of material, the type of clothing in the regular stores, and if they come here, they see them from countries like Nigeria and Morocco. They just don't go out of the box," said Anderson.
If you ask Basir Mchawi, chairman and a founding father of the festival, it serves the purpose of helping African-Americans reclaim their original identities.
"Back when we started 41 years ago, people were not in the habit of referring to people who were descendants of slaves living in North America as 'African,'" said Mchawi. "So we began to popularize that in terms of just the name. Not long after, people started referring to themselves as 'African-American.' We don't refer to ourselves as African-American because we feel that is in some ways kind of limiting."
The question of nationality extends to other Diasporic locales. "People from the Caribbean, they don't see themselves as being African-American. When you talk to African people from the continent, very often, they don't see themselves as being African-American. So we use 'African' as being that term that connects us to where we all are actually from."
For more information on the festival, visit http://iaafestival.org.