Singer Ledisi Finds Beauty and Beau McCall is Visual Artist of the Month
7/12/2012, 4:55 p.m.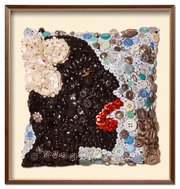 If you walk down 125th Street in Central Harlem you're bound to see diverse images of female beauty in various shapes, skin tones and hairstyles. Unfortunately, the mainstream entertainment industry doesn't always support such reflections. It takes strong and beautiful women like singer, Ledisi to stand up and demand that their looks be accepted. While promoting her tour and new book, "ESSENCE Presents Ledisi Better than Alright: Finding Peace, Love & Power" she shared her own struggles with beauty standards.
"My industry is driven by imagery. I love my natural hair but that wasn't part of the imagery they had in mind for me," she reveals. "So it took those hard experiences to embrace myself fully."
On a mission to help all women feel comfortable in their own shaven heads is visual artist, Aleathia Brown. As founder and CEO of the beauty diversity and health initiative, Unveiled Unlocked, Brown has plans to establish a movement encompassing coffee table books, community outreach events, art exhibitions and more in an effort generate a dialogue about the struggles and triumphs of women with bare heads from lifestyle choices to health causing loss of hair. "I want to expand the beauty code from women choosing hair to unfair," she says. "Folks will unveil the story behind their pain and silence around image or health or lifestyle choice and begin making informed choices about themselves and their health." The program launches during Harlem Week 2012 with a 20 "Bare Head Beauties" Walk in Celebration at the Harlem YMCA Stage on August 19th at 3pm and will be followed by a panel talk at 4:30pm at the Kennedy Center.
One of the contributing visual artists to the project, is Beau McCall. McCall was recently named the Harlem Arts Alliance's Visual Artist of the Month for July. His captivating work transforms buttons into elaborate works of art and has been featured in the fashion bible, Women's Wear Daily, PBS, NBC and more. For McCall the recognition within the Harlem Arts Alliance is an honor and an opportunity to expand the definition of art. "I am really pleased and honored to be selected as artist of the month. The statement I am making with buttons is that you can use any type of object to create art," he says. "Art can be anything. It is how you embrace it and how you interpret it."
McCall make his visual arts debut this Thursday at the Strivers Gardens Gallery and Souleo Enterprises, LLC exhibition, "eMerge: Danny Simmons & Artists on the Cusp." While there you just might see a few Volunteer Divas. Volunteer Divas is an organization founded by Lazette McCants which was borne out of SweetPea Producers "No Talking Heads" stage reading series. The organization places volunteers at various Harlem arts/cultural sites to provide support, including at the recent "A Time to Love," play written by Sade Lythcott at The National Black Theatre. Founder and executive producer of SweetPea Producers and Volunteer Divas member, Darsell Brtttingham hopes others will also become volunteers. "Volunteerism is very important. Harlem organizations don't always have capital to pay people to do little things but we can do that," she says. "It's also important to give back to the community."
Now that's a thing of beauty.