Policing the police: Knowing our rights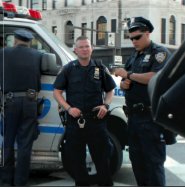 She continued, "We are promoting the community safety legislation that is in front of the City Council at this point. We deserve answers...we deserve a transparent police department where we can see what the policies are and make changes. Bloomberg and [Police Commissioner Ray] Kelly continue to lie and distort data. We strongly feel that something needs to be done."
A recent conversation with an NYPD source disclosed, "Stop-and-frisk is nothing new...before it primarily happened to Blacks and Latinos who went into white neighborhoods, but now it's happening citywide because they want them to get frustrated and move out."
PROP director Bob Gangi said, "The city's police should serve and protect people, rather than engage in stop-and-frisk and other tactics that harass and, in effect, criminalize them."
Some say fulfilling quotas seems to be the NYPD's main priority. They say it cannot be done at the expense of those who don't know their rights.
"We cannot allow them to get us into a stop-and-frisk argument when the real question is racial profiling," stated Barron.
While the damaging emotional and psychological effects of the NYPD's stop-and-frisk policy may never be properly measured, some say more and more that the Empire State is truly living up to its moniker.
"Commissioner Kelly must be fired! Kelly must go!" determined Barron. "Not only has he allowed for racial profiling, which is against our human and constitutional rights--you can't stop us because we are Black--in addition to that, there have been more police killings and brutality under Kelly...We have lost our lives, our communities have been turned into police states and the police are off the hook and out of control!"
He concluded, "Over 700,000 people were stopped, questioned and frisked, which led to only 12 percent actually getting arrested and less than 2-3 percent having a gun. That is based upon the statistics of the police officers who filled the forms out. Only one out of every 10, according to Elliot Spitzer when he was attorney general, and he did the investigation, which means millions of us are being stopped and frisked and it's not bringing crime down!"
For more information, visit policereformorganizingproject.org.