Shooting at Rucker Park during a Basketball Tournament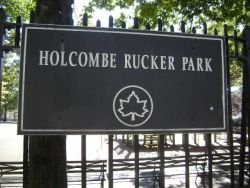 Last night at the Entertainer's Basketball Classic at Ruckers Park in Harlem, five people were injured during a shooting at the park located on Frederick Douglass Boulevard near 155th street. The incident is still under investigation and the gunman is still at large according to reports from CBS News. Former New York Knick Nate Robinson was present at the game, but was not injured. All five of the victims are hospitalized and are expected to survive.
This incident comes in the wake of another basketball court shooting that happened on Sunday in the Bronx and left four year old Lloyd Morgan, dead.