Wining and dining around Birmingham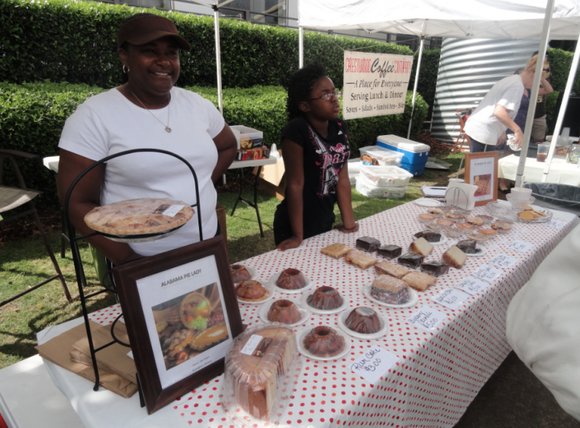 OK, you've been patient enough along this journey during "The Year of Alabama Food" while we traveled--knife and fork in hand--from Huntsville to Decatur and, finally, to Birmingham. Here now are a few places to tempt your taste buds while in "The Ham"!
From farm to table
I love visiting a city's farmer's market, the benchmark of a city with a vibrant culinary landscape. This is definitely true at Pepper Place Market on Second Avenue South. Held from mid-April to mid-December, the market exudes a wonderful vibe, no doubt created by the plethora of succulent, multihued fresh fruits, vegetables and herbs for sale at the close to 100 booths presented by local farmers and vendors from 100 miles within the city.
Many of the crop items have also been parlayed into delicious jellies and jams; sauces, rubs and toppings; breads, pies, cookies and cakes; wines and vinegars; sausages and all other sorts of other yummy culinary treats.
A bevy of arts and crafts are sold here as well, from homemade furniture to creative kitchenware, beautiful clothing and shoes, artwork, gifts and more. The ambiance here is also enhanced by live music from local talent.
Smack it up, flip it, rub it down...
Yep, I'm talkin' 'bout some good ole Southern 'que. As in many states across the country, Alabamans are fiercely proud of their barbecue. So we of course had to sample some, doing so at an outstanding, Black-owned family joint called Rib-It-Up, whose moniker is "The Finest Barbecue Around."
Let's just say that the flavors are amazing, the portions are sizeable, the options are numerous and the prices are very reasonable, especially considering the quality. Let's start with the ribs, which are some of the best I have tasted--tender, juicy, fall-off-the-bone and not to be missed.
The dinners, all of which include a choice of two veggies plus a roll or bread, encompass beef, pork, rib tips, pork chops, ribs and chicken. Chicken dinners range from quarters to halves, tenders, wings and chopped chicken, with the fish dinners offering a choice of whiting or catfish. There are similar sandwich es and sandwich combos, plus their awesome baked potatoes with your choice of barbecue pork, chicken or beef or a combo spud with a side salad.
The sides were tantalizing as well: mac 'n' cheese, green beans, turnip greens, collard greens, slaw, potato salad, fried okra, fried green tomatoes, barbecue beans, yams, fries and onion rings. Another nice twist was the cracklin' muffins, offering an extra crunch to this ubiquitous barbecue side. For desserts, you may choose from lemon meringue or lemon and pecan (yes, this is one pie) pie, peach cobbler or homemade cake.
Some of the many other popular barbecue joints in the area include Jim 'N Nick's Bar-B-Que, Saw's BBQ, Dreamland Bar-B-Que and Moe's Original Bar B Que, just to name a few.
Gastronomy Galore
Birmingham is home to numerous great places to wine and dine, from mom-and- pop joints to family fare, Southern specialties, upscale fine dining and everything in between.