Miss Black America- Connecticut still to compete despite scandal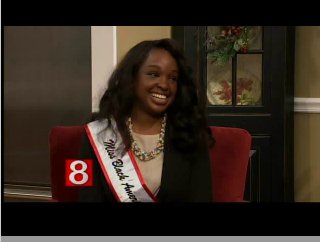 Three weeks into her internship at the Wall Street Journal, Liane Membis, a young black woman with an ivy-league education, was fired earlier this month for making up sources she quoted in her stories.
Fabricating sources is an offence serious enough to land any decorated journalist out of a job. Membis, who is also Miss Black America- Connecticut, now has to endure having the credibility of her past work investigated.
Yet as far as what her firing means to the community, Membis hasn't fallen from grace.
"At this stage she is still competing," said Aleta Anderson, a representative for Miss Black America. Membis won the title for Miss Black America- Connecticut last year.
The Journal notified its readers that Membis was no longer working for them in a note
"Many of the names contained in the article about the re-opening of the 103rd Street Pedestrian Bridge in Manhattan were fabricated by reporting intern Liane membis," the note said, "and the quotes couldn't be independently verified."
Other articles Membis, who just graduated form Yale University, wrote or contributed to were also called into question- "two of which have been edited to remove quotes that were provide by the intern and that cannot be confirmed," the Journal said in a statement.
Membis contributed to other well-known publications before her time at the Wall Street Journal. She wrote for Ebony magazine, the Huffington Post, CNN, and the Yale Daily News.
Membis was with the News for two years and contributed to or wrote 41 articles, said a web post from the Yale Daily News editor, Max de la Bruyere.
"We have investigated the work she did for the News so far as possible," said Bruyere's post, "and have found no evidence that she fabricated quotes or information in her reporting for us."
Membis reached out to the Amsterdam via email. "This has been very trying and emotionally tough for me," Membis said.
Membis also issued a statement saying she did not falsify any quotes. "I enjoyed visiting real sites and interviewing real people." her statement said. "I did not gather contact information for man-on-the street interviews, thus my sources were unable to be confirmed."
Some of the quotes from Membis' story on the 103rd Street Bridge were re-
Erik Wemple, who wrote the blog, replied, "Do people talk like that?" Anderson disagrees.
"In my opinion people really do talk like that," Anderson said. "I don't have any verification that her story is incorrect."
Membis is set to compete in the next national Miss Black America Pageant.
"We're proud to have a Yale graduate as an example for young women across the United States," Anderson said. "And she is worthy to have written for the Wall Street Journal."
Membis said she is focusing on rebuilding her life while working on her site, Bauce Magazine. "I will never put myself in a position in which my reporting or credibility can be compromised again," Membis' statement said.