Parents, teachers, unions and elected officials protest Bloomberg childcare cuts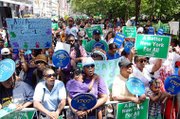 It wasn't your ordinary field trip as hundreds of Head Starters from across the five boroughs joined labor unions, parents, teachers and elected officials at City Hall last week, bringing the tally to more than 3,000. The demonstrators protested Mayor Michael Bloomberg's proposed city budget, saying that it would take more than 47,000 children of low-income and working-class families out of subsidized day care, Head Start and after-school programs. About 9,000 of these cuts relate specifically to the mayor's controversial EarlyLearn program.
According to information provided by the Administration of Children Services (ACS), "EarlyLearn NYC will meet the needs of New York City's children and families by providing services to income-eligible families, allowing them to seek or maintain employment, while establishing consistent, quality services across all program sites."
Some of the unions on hand included AFSCME District Council 1707, Head Start Local 95 and Local 205 Day Care. Union leaders called on the City Council to reverse Bloomberg's cuts and fully restore child care funding. "It's about fighting for what is right and what is good in this city," declared AFSCME Secretary-Treasurer Lee Saunders. "Whenever you hurt children, whenever you hurt our unions, you have one fight on your hands."
Demonstrators said that the services are being cut disproportionately in low-income and minority neighborhoods, contradicting EarlyLearn's stated goals. More than 1,800 child care and Head Start workers will lose their jobs.
"In 2006, we funded 116,00 child care centers, but since then, the mayor has cut programs by more than 30 percent," Brooklyn Council Member Brad Lander told protestors.
In addition to funding the child care system at pre-EarlyLearn levels, rally organizers called on the City Council to allow more disadvantaged children to participate in programs, keep rates affordable for families and retain dedicated teachers and staff in the city's diverse communities.
Congressional candidate and Council Member Charles Barron reminded everyone that the mayor does not vote on the budget and urged his colleagues in the City Council to vote no on the cuts. Said Barron, "The EarlyLearn proposal process is a disgrace and it's racist. Don't use a process to cut out Black, Latino and Asian day care centers and give it to white contractors." He continued, "You built Yankee Stadium, you built the Mets a stadium, you built the Nets an arena--Bloomberg, show us the money!"
No one from the mayor's office spoke at the rally, but ACS Commissioner Ronald E. Richter issued a statement. "EarlyLearn NYC is the most significant innovation in New York City's early care and education system in 50 years," he said. "We will be providing the working families of this city higher quality services in our neighborhoods of greatest need."