A celebration of the life of Hazel Medina-Matz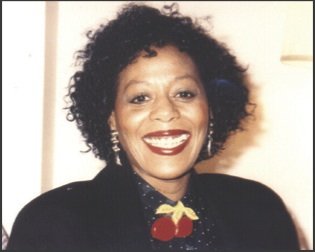 A celebration of the life of Mrs. Hazel Medina-Matz took place on March 24 at Riverside Church's Christ Chapel in New York City. And what a remarkable observance of the life of this remarkable woman.
Medina-Matz was an exceptional human being who dared make her mark on the world as an actress, social worker and the loving and supportive wife of actor Jerry Matz, her husband of 31 years. Born in Colon, Panama, on Oct. 8, 1937, Medina-Matz made her transition from this world on Feb. 14 at the age of 74. She died at New York Presbyterian Hospital from complications related to multiple myeloma, a disease she was first diagnosed with in 2007.
Medina-Matz was the only child of Ernest and Lolita Frederick. Her mother's father left his homeland of Jamaica and immigrated to Central America to earn a living as a digger on the Panama Canal. In due course, he decided to remain in Panama, where he raised his family.
His daughter Lolita subsequently married, then divorced and remarried, choosing to immigrate to America with her new husband and 8-year-old child. Settling in Pennsylvania, Medina-Matz attended the Blessed Sacrament at Pennsylvania's Holy Providence School. During her first three years of high school, her family frequently moved from place to place until they finally relocated to Los Angeles, where Medina-Matz finished her senior year and enrolled in Los Angeles City College.
In 1967, Medina-Matz made her debut as an actress in the role of Bill Cosby's younger sister on an episode of the popular TV series "I Spy." For a subsequent TV role on "Gunsmoke"--the longest-running U.S. primetime live-action drama, on the air from 1955 to 1975--she was nominated for an Emmy Award. During the '70s, the actress made guest appearances on various television shows including "Sanford & Son," "MacMillan and Wife," "The Rockford Files" and "Baretta," for which she wrote a script. Early 1980s credits include "The White Shadow" and "Lou Grant." During this period, Medina-Matz also appeared on various telepics, including "Women in Chains" and "Cry Rape."
While residing in Los Angeles, Medina-Matz was a founding member of the Group Repertory Theater, a member of Theater West and a charter member and one-time president of the Kwanza Foundation, an organization created by African-American actresses to give back to urban communities.
In 1979, Medina-Matz accepted an acting job in New York City and met stage and screen actor Jerry Matz, who she married in 1981.
In New York, the William Esper-trained actress--who received her bachelor of arts degree in theater/drama from Fordham University, the College at Lincoln Center, where she served on their Advisory Board--became a member of Black Women in Theatre and the Negro Ensemble Company (NEC).
At the NEC, she was cast in the production "Prince/We," by Pulitzer-winning playwright Charles Fuller. She also co-starred with the renowned actor Sullivan H. Walker in "Two Can Play," by the eminent Jamaican playwright Trevor Rhone. The production, which was brilliantly directed by Clinton Turner Davis, was later performed at the Cincinnati Playhouse in the Park, where Medina-Matz and Walker reprised their triumphant roles.