June 26, Brooklyn battles for Congress: Barron and Jeffries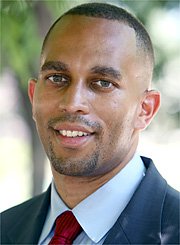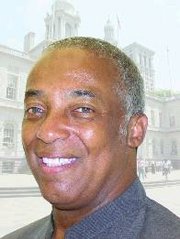 Brooklyn, locally referred to as "The People's Republic," is gearing up for a major congressional primary this Tuesday, June 26. Going for the seat vacated by 15-term veteran Edolphus Towns are Councilman Charles Barron and Assemblyman Hakeem Jeffries, who have hit the street corners, subways stations, community events and churches at warp speed. Towns, for his part, threw his considerable support behind Barron after announcing his retirement.
Charles Barron
Barron has represented the 40th City Council District since 2001, and he has a reputation for opposing what he has declared to be established but unjust situations in the community, from policing to housing. His opponent is the attorney Jeffries, who has represented Brooklyn's 57th District in the state Assembly for five years and wants to bring new blood and energy to Capitol Hill.
In the final leg of the race, the AmNews asked both candidates the same set of questions about their main issues, achievements and goals.
Barron reeled off a long list of issues that he is known for taking on: "racial profiling/stop-and-frisk, discriminatory housing, single-payer medical care, safeguarding social security, lack of jobs, suffocating foreclosures, pushing for a living wage bill and my support for day care centers."
He then launched into a fuller description of his achievements and the issues that have authored his political moves. "I am the No. 1 council member in attracting affordable housing to my district, so people earning $20,000, $30,000 or $40,000 can get a two- or three-bedroom apartment or studio for $300-$900.
"I am the No. 1 councilman in renovating parks; we have spent $17 million renovating three parks, and we have the best parks in the city. As for education, I have helped bring two $80 million schools to the district and I have secured millions of dollars for CUNY scholarships. I have also helped saved two schools and two senior centers that were on the chopping block in my district.
"I have always been a big, big supporter of labor," Barron continued. "With DC37, I was one of the first to fight against the firing of 642 school aide workers; with 1199, I led the charge for hospital workers at Brookdale Hospital, who were fighting to save their pensions and health care benefits. I went to jail with 32BJ in their fight for a fair contract and benefits; with TWU, I fought to save tollbooth workers and motormen and on their three-day strike, I was there every day."
He said he hears about the issues that affect his community on a daily basis.
"I am very well entrenched in the fight for basic human and civil rights in our community," he said. "You are not just going to subject us to violent police containment, substandard education and housing and think we will just give in. No, we as elected officials have to fight for our communities so they get the resources and funds that they need and deserve to have a decent quality of life."
Barron said his record over the years speaks for itself.