June 26, Brooklyn battles for Congress: Barron and Jeffries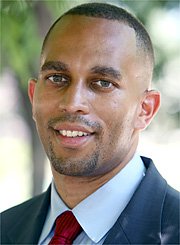 "It is mostly Blacks and Latinos who are arrested every year in New York City for possession of small quantities of marijuana. It is the largest single arrest category in the state, and tens of thousands of lives are needlessly ruined by giving these individuals a criminal record."
Though the bill seemed dead in the water this week, with Republicans digging in their heels, it could be reintroduced later.
"If we can pass this bill, we can end the marijuana arrest explosion in our communities," Jeffries said. "Mayor Bloomberg has arrested more people for small quantities of marijuana than Giuliani, Koch and Dinkins combined."
Speaking of the NYPD, Jeffries continued, "I wrote the law that shut down the NYPD database that maintained the personal information of more than 1 million innocent, law-abiding New Yorkers who were stop-and-frisked and had done nothing wrong.
"I also championed the legislation that changed the way incarcerated individuals are counted for purposes for legislative redistricting; people, mostly Black and Latino, who are temporarily held upstate were counted as residents of those counties, taking away political power from neighborhoods like Harlem, Bed-Stuy, Brownsville, East New York and the South Bronx.
"Under the legislation that I passed, incarcerated individuals will now be counted as residents of the communities they come from and will ultimately return to after they finish their sentence."
Jeffries talked about how he supported the repeal of the Rockefeller drug laws, "which [were] sending people to prison who should have been given drug treatment."
He added, "I often encountered people pushed out of their neighborhoods as a result of the forces of gentrification. In response, I created a free legal housing clinic that provides assistance to tenants and homeowners who face either eviction or foreclosure. I launched Operation Preserve in 2007, and we've helped hundreds of people stay in their homes in my district where gentrification is most intense."
As for attacks claiming that he has received a bundle of hedge fund and Wall Street 1-percenter money, Jeffries denies it.
"That is factually incorrect and is designed to take attention away from real issues in the congressional district. We've raised money from more than 2,400 people during this campaign, and over 60 percent of the contributors gave $100 or less. Our fundraising activities have been fueled by grassroots support.
"I've received some support from some people on Wall Street, but that's a tiny fraction in this campaign. People should question people throwing charges with not a thread of evidence to back them up. We all have to file with the Federal Election Commission, which provides transparency as to who has been supporting our campaigns."
Jeffries said he is a strong candidate because "I have a proven track record of legislative accomplishment that demonstrates that I can get the job done. Washington is filled with people interested in self-promotion, and the communities need a representative committed to doing the business of the people.
"The campaign is going extremely well," he said. "We have tremendous movement, with a lot of support from unions and prominent clergy like 1199, TWU and Johnny Youngblood, Fred Lucas and Gary Simpson."