Freedom in Lefrak City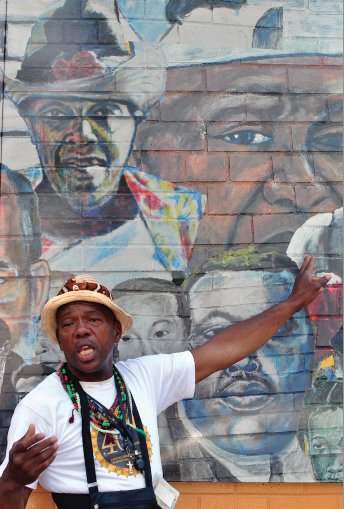 Another small section of wall with clustered, sprayed-on scribbles behind us isn't safe from Freedom's creative wrath either. "I'm going to put something over there. We're gonna put art on any wall we go to."
It turns out that cleaning up Lefrak's aesthetics doesn't just benefit the residents though. "There's a sergeant of the 110th Police Department named Mr. Brown," Freedom explained. "And every time he comes out, he's gotta take care of the tagging, so when he sees me doing my thing, I'm helping him out."
As we continue our impromptu tour, Freedom comes across a woman who tells him about a rally going on at the Queens Library later in the day. He connects the planned library cuts to his mission.
"There are a lot of things happening in our community, and they're trying to close down our library. That's more children out in the street. I was thinking about getting some kids to help me in this next project. I gotta get them involved. The kids don't have anywhere to go. If they're closing down the library, they're back to the streets again, and then you see more violence.
"How are we gonna stop the violence? By reaching out to them and saving lives. If we don't reach out to save them, they'll be easily led in the wrong direction."
Returning to the shrine for young people on his block, Freedom shared how tribute murals pass things down to younger generations, speaking with his 5 Percenter knowledge. "This tribute is for life itself," he said. "This body is nothing but a spaceship. Your body is born to decay. We're passing through, and as we pass through, we have to pass the baton. These walls are just like a baton passing.
"My tribute is to all mankind, to all human families of the planet earth. Each one, teach one. That's my motto."