Affirmative action threatened at U.S. colleges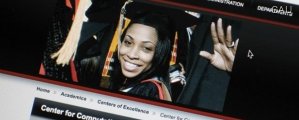 Affirmative action at the nation's colleges and universities is under attack again as the Supreme Court agreed last week to hear a case from a Texas school.
The case stems from a white University of Texas student who claims that she was rejected because of her race.
The Supreme Court last ruled on affirmative action in 2003 in the landmark Grutter v. Bollinger case, which involved the University of Michigan Law School. At that time, the composition of the court was more liberal, leaving a decision now uncertain. But there is institutional support for continued affirmative action.
"I firmly believe that diversity and excellence are inextricably bound, especially in higher education," said Columbia University President Lee Bollinger, who was president of the University of Michigan when the 2003 case was brought before the court.
"Students will only be prepared to meet the complex challenges of our global society if they learn in an environment that embraces the multiple perspectives found in our nation and the world," he said.
During the 2003 case before the Supreme Court, Justice Sandra Day O'Connor wrote that all people, regardless of race, should get the opportunity to reach their goals.
"It is necessary that the path to leadership be visibly open to talented and qualified individuals of every race and ethnicity," O'Connor wrote. O'Connor retired from the court in 2005, and then-President George W. Bush replaced her with the very conservative John Roberts, whom he later elevated to chief justice.
Changes to Affirmative Action could have effects on students of color entering college. For years the policy has been used to promote racial diversity at colleges to guarantee an even playing field for higher education.
In 1996, California banned Affirmative Action in the University of California System, which includes UCLA. A 2010 report from the UC Board of Admissions and Relations revealed that the proportion of African-American admissions may continue to shrink without an effective intervention strategy.
"Now that the Supreme Court has decided to revisit the question of race in admissions decisions, an issue that we hoped had been decided in 2003, we urge the court to respect its own precedent and uphold the use of race among many factors in higher education admissions," said Gregory T. Chambers. president of the American Association for Affirmative Action.
Chambers added that colleges and universities should be able to consider the whole student, including a student's race, among the many factors to determine who is admitted.
"As the nation's demographics indicate, this nation is becoming increasingly diverse and it is not the time to close the doors of opportunity based on race or national origin," he said. "This nation's future depends upon all qualified individuals receiving a chance to compete in education, employment and business."