The renaissance life of Romare Bearden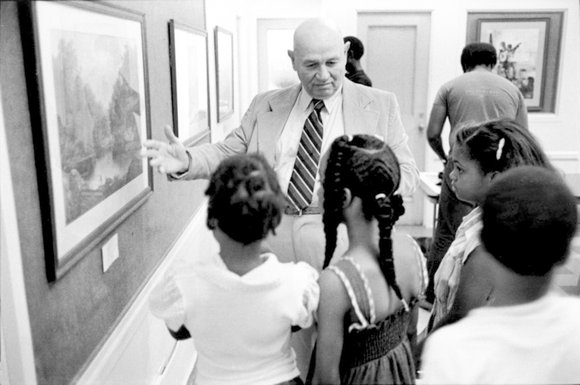 The word "renaissance" means a rebirth or awakening. The Harlem Renaissance refers to a period in the 1920s and 1930s during which a wealth of political, social and artistic talent poured from the Black capital of the world. With that understood, the word "renaissance" is used to define one who engages in and masters various art forms. Romare Bearden was one such person.
Known mostly for his skills as a visual artist, painter, sculptor and master of collage, Bearden was also a keen student of music, a lyricist and a costume and set designer, among other things. Bearden used his vast life experiences and studies, both in the United States and abroad, and those of Black people as the source of his artistic expression.
Bearden was born on Sept. 2, 1911, in Charlotte, N.C., to a family of well-to-do entrepreneurs He was the only child of Richard Howard and Bessye Bearden. His grandparents ran a boarding house in Pittsburgh, earning rental money from migrant workers. Bearden would later draw from many of his experiences in Pittsburgh as well as Harlem as subject matter for his work.
The Beardens arrived in Harlem during the Great Migration as the famed Harlem Renaissance was underway, and they soon began rubbing elbows with key luminaries of the day. His mother became a prominent community figure and was the New York editor of the Chicago Defender, the country's largest Black newspaper at the time. She was also the first Black woman elected to the New York City School Board. Bearden's parents knew the importance of a college education and stressed it to their only child.
Bearden began his studies at Lincoln University, then transferred to Boston University and finished at New York University, graduating with a degree in education. He also attended the Art Students League and the Sorbonne in Paris, France.
He started his art career as a cartoonist, working for a weekly publication, the Medley, and later the Baltimore Afro-American.
Bearden would spend the rest of his life immersed in art, studying Cezanne, Picasso and Matisse, African sculpture and masks, Byzantine mosaics, Japanese prints and Chinese landscape paintings.
His huge talent was recognized at his first solo exhibition in Harlem in 1940. He had a second solo show in Washington, D.C., four years later.
Like most artists, Bearden had a day job. For nearly 30 years, he worked for the New York City Department of Social Services. Focusing on his art during nights and weekends, Bearden produced a prolific body of work, including watercolors, oils, sculpture, photo montages and his signature collages.
In 1954, Bearden married Nanette Rohan. The couple had a second home in St. Martin, where the tropical backdrop also served as subject matter for Bearden's art.
THE COLLAGES
The collage, a medium that combines painting, magazine and newspaper clippings, paper and fabric in a jigsaw puzzle fashion, is textured art and the style for which Bearden is most famous. Bearden's collages appeared on the covers of Time and Fortune magazines. It was Bearden's primary medium.