The renaissance life of Romare Bearden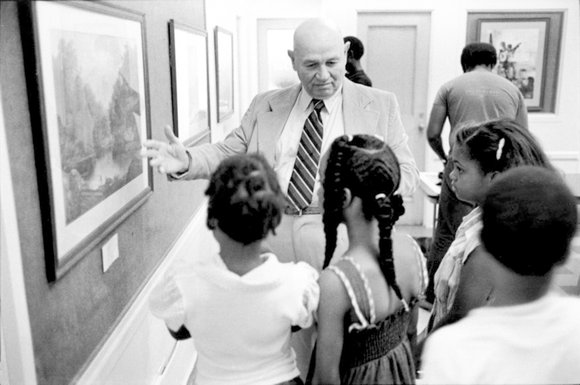 Bearden also wrote poetry and published a number of songs. His tune "Seabreeze" was a hit in 1950 and was recorded by Billy Eckstine and Tito Puente. It was recorded again in 2003 by jazz musician Bradford Marsalis.
In addition to being recognized as one of the most important visual artists of the 20th century, he was also an impressive writer and eloquent speaker. He was active in many arts organizations, including the Harlem Cultural Council, instrumental in founding the Studio Museum in Harlem and a founding member of the Black Academy of Arts and Letters. He was elected to the National Academy of Arts and Letters in 1972.
Bearden also wrote jazz compositions and even designed costumes and sets for the Alvin Ailey American Dance Theater. His art was an inspiration for renowned playwright August Wilson. Bearden's collage, "The Street," appeared on the cover of Wilson's "A Casebook."
Wilson said of Bearden's art, "What I saw was Black life presented on its own terms, on a grand and epic scale, with all its richness and fullness. It was the art of a large and generous spirit that defined not only the character of Black American life, but also its conscience."
Bearden died on March 12, 1988, in New York. He was 77 years old.
You can see his art at the Studio Museum in Harlem as part of its permanent collection. In honor of Bearden's 100th birthday, the museum is also presenting "The Bearden Project," an exhibit by contemporary artists, some of whom knew Bearden. It's a fitting tribute to this creative genius by those he inspired. Learn more about it at thebeardenproject.studiomuseum.org.
Teachers: You can take today's lesson a step further and use Bearden's as a teaching tool. The Romare Bearden Foundation, located at 2090 Adam Clayton Powell Jr. Blvd. in Harlem, is an excellent resource for all things Bearden. You can see his art, read a detailed biography and view lesson plans created exclusively for students. Visit www.beardenfoundation.org to learn more.